Virginia Beach Police Chief to Receive Wesley Award
Virginia Wesleyan University will honor Chief James Cervera during Founders Day Convocation on October 4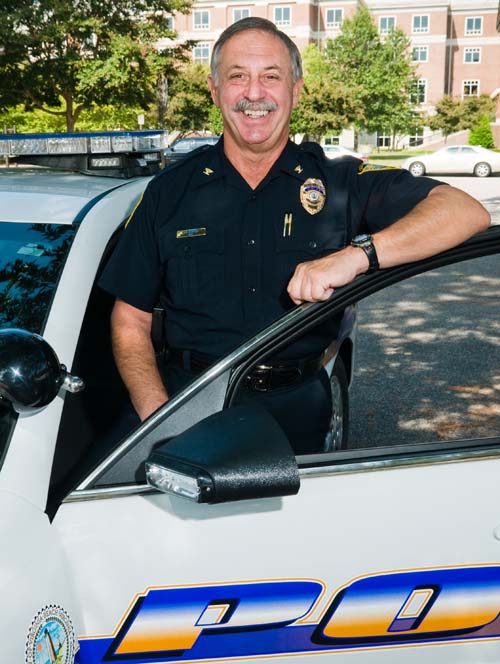 University News | August 12, 2019
In honor of his service to the people of Virginia Beach, Virginia Wesleyan University will present the Wesley Award to Virginia Beach Chief of Police James "Jim" Cervera during Founders Day Convocation on October 4, President Scott D. Miller has announced.
Named for the central figure of the University's founding Methodist denomination, John Wesley, the Wesley Award is given for outstanding contributions to human relations, social inclusiveness, and interpersonal understanding.
"In addition to exemplifying these qualities, Chief Cervera has demonstrated an inspiring commitment to the safety, security, and well-being of our citizens," said Dr. Miller, "during the aftermath of the Municipal Center tragedy, through his longstanding service to the City, and his leadership of a devoted, professional team of law-enforcement officers and personnel."
Cervera was appointed Chief of Police in September 2010. He joined the department in 1978 and was promoted through the ranks. As a sergeant, he served as a SWAT team leader; as a lieutenant, he was assigned to the Labor Day Task Force; and as a captain, he commanded the Second Precinct. He has also held posts in Professional Development and Training and assignments on the Chief's Staff. He was appointed Deputy Chief of Operations in 2000. During his years as Deputy Chief, he supervised the Operations Division and the Investigative Division.
Throughout his 40-year tenure with the Virginia Beach Police Department, Cervera has been instrumental in developing and implementing the city's gang prevention program. He authored and secured a series of grants for a community-policing program, then coordinated and supervised its implementation. He also introduced the COMPSTAT program to the department, which uses GIS technology to map crime and identifies problems, and brings precinct commanders together to devise strategies to solve those problems and to reduce crime. As chief, he reorganized the department and developed the Professional Standards Division. He is a leader in community policing and holds positions with a number of organizations including the Hampton Roads Community Foundation and the State Department of Criminal Justice Services; he is a board member of the Major City Chiefs Association. He was also appointed to the Transition Teams of Governors Bob McDonald and Terry McAuliffe.
Founders Day Convocation will also feature keynote speaker Eric Nyman '94, President of Hasbro North America. The event will take place on campus Friday, October 4, at 2:00 p.m. in the Joan and Macon Brock Theatre of the Susan S. Goode Fine and Performing Arts Center. The event will be livestreamed through the VWU Digital Broadcasting Network.
*Founders Day Convocation was rescheduled from its original September date due to Hurricane Dorian.