Share this Story
VWU: Widening Access to Workforce Development
U.S. Senator Tim Kaine visits campus to view progress on Displaced Worker Initiative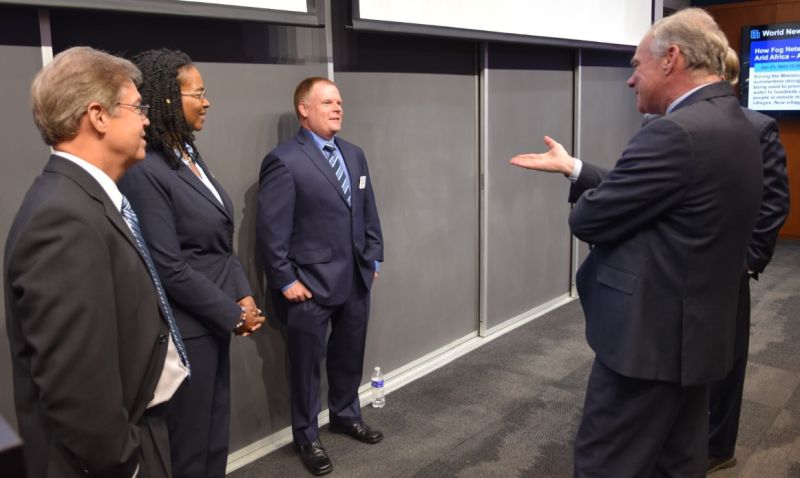 University News | June 29, 2022
U.S. Senator Tim Kaine visited Virginia Wesleyan University on June 28 to view progress on the Displaced Worker Initiative. This workforce development program—which offers no-cost courses to Hampton Roads residents who have lost employment due to the pandemic—has led to local, state and federal accolades and resulted in grant funding for instructional updates to Clarke Hall.
In 2020, Virginia Wesleyan began offering a variety of no-cost professional development courses, funded by an anonymous donor, to support local workers displaced by COVID-19. More than 8,100 people took these courses, and the program has since grown to more than 10,000 learners.
The success of the program earned the attention of the Virginia Beach Department of Economic Development, who subsequently partnered with the University for programs via VWU Global Campus and in person in the Management, Business, Economics and Innovation Center in Clarke Hall on campus and also at The Hive in Virginia Beach Town Center.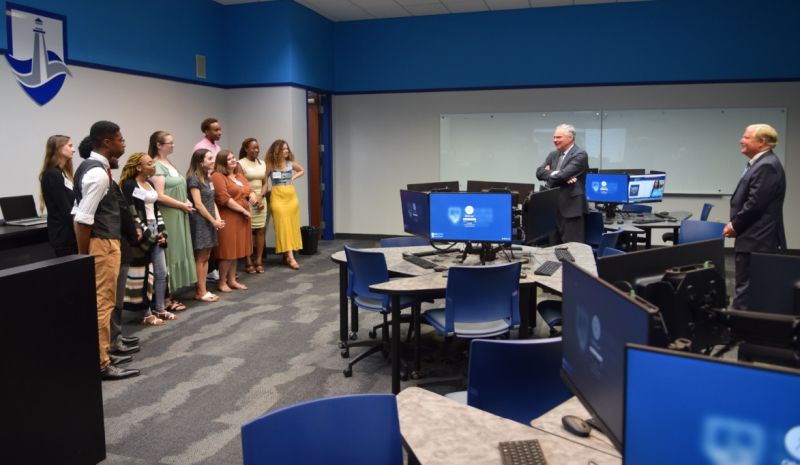 During Sen. Kaine's visit to campus, VWU President Scott D. Miller highlighted Clarke Hall's modernized classrooms and new state-of-the-art technology. Renovations include a new Faculty Collaboration Studio, a Business and Technology Hub and Cyber Security Lab, an Innovation Theater, the Pearson Vue Testing Center, and a One-Button Recording Studio.
The completed upgrades are the first of a two-part process expected to be completed during the 2022-2023 Academic Year. The second phase will include additional instrumentation and classroom modernization in Clarke Hall.
Constructed in 1998, Lambuth M. Clarke Hall has traditionally served as the "Academic Center" of the University, housing academic administration offices, the Center for Exploration and Discovery, the Beazley Technology Center, Learning Center, and business classrooms.
Offered jointly through VWU Global Campus and the University's D. Henry Watts School of Professional Studies, workforce development programs are now available in person on campus, virtually through VWU Online, and off-site at The Hive and various local businesses.
The Hive is a partnership between VWU, Virginia Beach Economic Development, the Hampton Roads Workforce Council, and Tidewater Community College.
Learn more about continuing education offerings through VWU Global Campus.