Dr. Joyce Easter awarded first grant from Applied Separations, Inc. for  implementation of environmentally friendly chemistry technique in the classroom.
By Laynee Timlin | August 11, 2011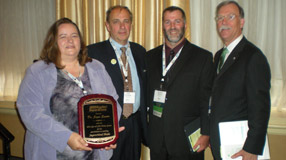 Thanks to a 20K grant Professor of Chemistry Dr. Joyce Easter received during the 15th Annual ACS Green Chemistry and Engineering Conference in Washington, D.C. recently, students at VWC will soon have opportunities to learn the fundamentals of the supercritical fluid extraction process, giving them knowledge about green chemistry that will better prepare them for work in the industry.
Supercrictical fluids are high-temperature and high-pressure substances that share properties of both liquids and gases–the most common example being supercritical carbon dioxide, some practical uses of which include things like dry cleaning, carbonation for soft drinks and dry ice.
Easter will be using Applied Separations' Spe-ed SFE Prime system to integrate Supercritical Fluid Extraction (SFE) into sophomore-level organic chemistry classes at Virginia Wesleyan College this fall.
The grant award includes the systems' series of instruments, syllabus and lesson plans written by supercritical fluids expert and well known South Dakota State University Professor Doug Rainey, handouts, application notes and online resources to complement green chemistry coverage in the curriculum.
According to Easter, "The Prime will be employed in natural product and other independent research projects comparing SFE to steam distillation and liquid-liquid extraction for natural products, specifically essential oils. Each student will use different SFE conditions such as temperature, pressure, and extraction time, and based on class data, will determine the optimal conditions for extraction."
She says the goal is to eliminate the use of the organic solvents by manipulating the SFE conditions to achieve similar separations of the essential oil components.
"We expect to publish the results of these studies, as there are currently few optimization studies in the literature."
Several of Easter's other projects will also benefit from the use of SFE and Applied Separation's Spe-ed SFE Prime. Easter says that she is looking forward to using the grant award to apply green chemistry principles into synthetic pathways for pharmaceutical feedstocks, the quantification of antioxidants in fruits and vegetables, and especially the isolation and characterization of bioactive compounds from marine invertebrates.
Applied Separations, Inc. is committed to promoting green chemistry in post-secondary schools through education in Supercritical Fluids. To learn more about Applied Separations and Supercritical Fluids visit www.AppliedSeparations.com.