Practices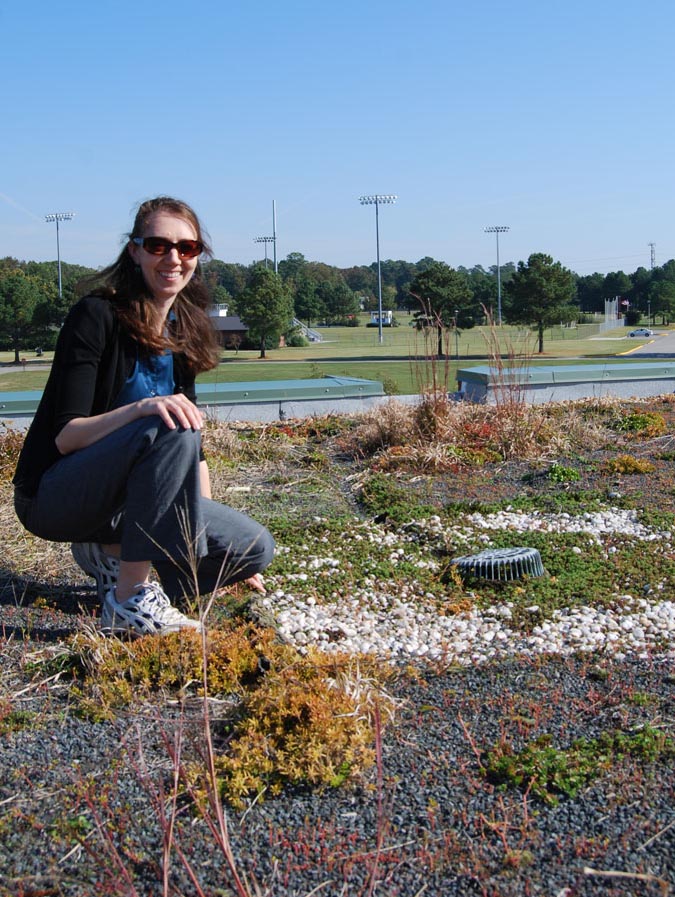 Virginia Wesleyan University is not just talking about the importance of sustainability issues—the University is actively greening its campus and taking action to become a more environmentally-friendly place.
Just driving on campus, you get the feeling that the environmental is important to Virginia Wesleyan with its wide-open spaces, green fields, wild flowers, and bluebird and bat boxes for nesting. It's not uncommon to see a family of raccoons or Canadian Geese making themselves at home on campus.
With the creation of the President's Environmental Issues Council (PEIC) came the development of a more aggressive campus recycling program and the refinement of campus building and business policies and procedures. In conducting campus audits, the PEIC found that the University had already been environmentally conscious in many areas.

Building Procedures
The Buildings and Grounds Committee of the Board of Trustees has jurisdiction over the following architectural standards and approving variances from these and all other specifications.
Exterior
Site disturbance shall conform to the LEED specifications unless future development, safety or practical issues warrant a variance.
Buildings shall be constructed to match or blend substantially with the architecture of the existing campus buildings. This should include elements such as:

Arctic White precast stone work.
Flat or black shingled pitch roofs, slate, slate look, architectural.
Brick work to be "Wesleyan Brick."
Mortar - Type "S" gray, Lehigh or equivalent.
Windows and door frames, metal or wood, bronze finish.
Windows should be energy efficient, low UV emitting.
Structures to be two or three story maximum.
Handicap access is to be included at a minimum of ADA compliance.
Use of recycled/recyclable materials recommended.
Caulking should be low/no VOC.
Interior
Elements of interior construction and finishes should include:
LEED specifications shall be followed as possible.
Plumbing fixtures should be low flow rated.
Walls shall be painted with non-VOC paints.
Walls to be of brick, masonry, sheetrock or similar.
Use of steel framing is preferred.
Decks of concrete, precast or poured on site.
Materials from suppliers within a 500 statute mile radius shall be given preference.
Materials that are recycled/recyclable will be given preference.
Caulks and mastics shall be low/no VOC rated.
Handicap access shall be implemented at a minimum of ADA requirements.
Communications shall be current for the individual room usage (high speed internet, cable TV, telephone, etc.)
Closed handled emergency release bars for all doors.
Light fixtures should be fluorescent or LED whenever possible.
Mechanical
The most efficient and cost effective HVAC that meets all ASHRAE requirements should be the first considered.
Safety and Security
The City of Virginia Beach Crime Prevention Through Environmental Design shall be consulted prior to exterior landscaping design approval.
All buildings shall be fire sprinkled and alarmed.
Walkway lighting shall be First Light conforming to the lighting at Godwin Hall.
Parking lot lighting shall conform to the lighting used at the Batten Center lot.
Parking
Parking shall be factored into the cost of the building at the concept costing stage. Parking will compare LEED requirements against known need.
Business Procedures
In day-to-day business, Virginia Wesleyan is environmentally-conscious by routinely practicing the procedures listed below.
Construction
Bio-retention ponds are installed during construction to clean the water before it runs to Lake Taylor.
Low or no VOC paints and sealants are standard on new construction, and used on renovation projects, where applicable.
Low capacity plumbing fixtures are used to conserve water.
A living green roof was installed on Smithdeal Hall in Village II.
Clarke Hall will soon be recommissioned to meet LEED standards for existing buildings.
Energy
Replace incandescent light bulbs with fluorescent bulbs during renovation.
Energy Star appliances, where applicable, are standard on campus.
An ice storage system, where ice is built at night, has been installed. This allows a chiller to be shut down during the day, reducing the electrical production facilities need due to reducing peak demand.
Night set-back controls are used in buildings where we have central HVAC controls.
A gravity feed roller system was installed in the dining center, replacing the powered dish mover.
Landscaping
Native plants are used wherever possible.
Minimal fertilizers are used, and those used are organic.
In icy conditions, the University uses more sand, a natural control system, than chemicals to reduce slippery areas.
Recycling
We've re-instated an improved campus recycling program.
The Business Office recycles toner cartridges from campus printers and copiers
The Physical Plant recycles batteries.
Memo pads are created from left-over print jobs and misprints in the campus print shop.
Recycled paper pads are sold in the Scribner Bookstore.
Recycled copy paper and envelopes are purchased for the campus print shop.
An effort is made to purchase recycled products across the supply line.
Planted pines removed in the construction of Village IV were recycled and used for mulch.
Transportation
Hybrid vehicles are being introduced into the University fleets.
The Marlin Express and the Marlin Transit Authority provide transportation for students, reducing the need for multiple vehicles to travel to the same location.
The Marlin Wheels program allows for environmentally-friendly travel on campus.
Waste
The Physical Plant provides hazardous waste removal through authorized handlers.
Campus scientists utilize minimal chemicals for experiments thus creating less waste.
Trayless dining reduces food waste and saves energy.