By Megan Z. Shearin |   April 30, 2010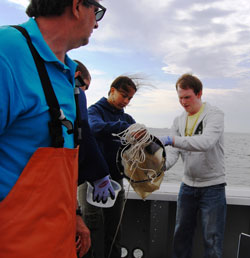 The state-of-the-art electronic system on the 45-foot Ocean Explorer research vessel reads the water below at 22 feet deep when senior Owen Davis throws a Dorn water sampler over the edge.
Davis is three miles offshore floating in the middle of the Chesapeake Bay during his afternoon Senior Integrative Experience course, Natural and Social History of the Chesapeake Bay.  Using specialized marine research equipment, he and his classmates are conducting salinity water sampling and field experience research on a vessel outfitted to operate in coastal waters throughout the Chesapeake Bay and mid-Atlantic region.
"I'm predicting that the salinity will increase as the depth increases," said Davis, who carefully reaches over the side of the boat to collect water samples at three different depths. He then squeezes a teardrop of salt water into a hand-held refractometer and holds it up to the light to determine the salinity.
The Chesapeake Bay, one of the largest estuaries in the world, is the perfect setting for Virginia Wesleyan students to engage in research and study.  The Ocean Explorer research vessel transports students from land to sea, giving them hands-on experience to examine the historical utilization, ecology and cultures inhabiting the Chesapeake Bay, the human impact on the preservation of this system, and consider different issues affecting the watershed and its future.
"As a German major, I never thought I would be taking a course that would put me on a boat to do research.  This boat is a great experience for all students, whether they're majoring in the sciences or are focused in another discipline." – Owen Davis
Having grown up in Norfolk, Va., Davis said the course about this local national treasure quickly caught his attention.
"I'm really interested in the geology and geography of the bay, how it was formed and the changes that are occurring," said Davis, who is majoring in German.  "It's my home.  I grew up playing in these waters, so I want to learn how to protect them."
Instructor of the course and Assistant Professor of Biology Dr. Deirdre Gonsalves-Jackson said the vessel provides Virginia Wesleyan students invaluable hands-on experience in a job market that is in demand for qualified marine-science professionals.
"My first experience doing research/participating in class field trips on a research vessel was in graduate school at Florida Atlantic University," said Jackson.  "Our students are very fortunate to have this opportunity at the undergraduate level.
"The College is proud to offer a new minor in Marine Science, a combination of biology and earth and environmental science courses.
Students who engage in a variety of courses at Virginia Wesleyan have the opportunity to use the research vessel for field experiences, like this one, though courses such as oceanography, marine biology, ecology, environmental chemistry and environmental geology. The vessel is also an essential tool in the College's new minor in Marine Science, a combination of biology and earth and environmental science courses.