Recycling at VWU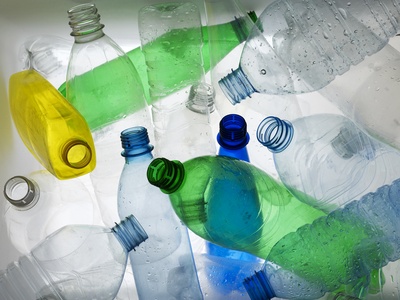 Recycling at Virginia Wesleyan University is both an institutional commitment to reducing waste and an individual commitment to being good stewards of our environment. A partnership between members of the campus community, the Facilities Management staff and locally based waste management company Bay Disposal & Recycling, VWU's recycling program is truly a cooperative effort.
How recycling works at Wesleyan
Blue and You: Individuals are responsible for sorting their trash and placing recyclables into the blue mixed-use receptacles, open bins as well as large covered 55-gallon containers, located throughout campus. The Facilities Management staff empties the larger bins and containers into a dumpster near the Facilities Management office. Bay Disposal & Recycling collects, sorts and processes our recyclables.
There are large open bins in a variety of office and common-space locations. The locations of all large covered 55-gallon containers and a list of acceptable and unacceptable materials for recylcing are below.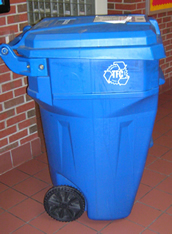 Large Container Locations
All academic buildings
All residence halls
Apartment laundry rooms
Batten Student Center
Boyd Dining Center
Blocker Hall
Facilities Management
Library
8 yard Container Locations

Batten Center
Honors Village
Brock Village Facilities Management
Yes! (Acceptable recyclables for blue bins and containers)
Aluminum cans/foil/pie tins
Cardboard
Catalogs
Cereal boxes
Envelopes
Glass bottles/jars (brown, clear, green)
Invoices
Magazines
Newspapers
Office/writing paper: white & color
Old forms/files (remove paper clips, Post-Its)
Paper bagsPhone books
Plastic bottles (water, soda, juice, milk jugs)
Shrink wrap
Steel/tin cans
Unwanted mail
Wrapping paper

Terracycle
Recycle oral care products and health and beauty packaging at Terracycle locations in Hofheimer Library's 24-hour study space
No! (Unacceptable materials for blue bins and containers, AKA contaminants)
ANYTHING with food waste on it*
Aersosol cans
An abundance of Post-It Notes
Batteries**
Diapers

Paint cans
Plastic or paper bags
Printer cartridges**
Wood products
Yard waste

*Food waste is one of the most common ways to contaminate a recyling container. Pizza boxes, napkins, wrappers and other materials with food still on them should not be mixed in with recycling.
**Although there are no official recycling centers on campus for batteries and printer cartridges, some campus offices do collect them for recycling at different times during the year.
Contact Facilities Management (757.455.3365) or the Office of Community Service (757.455.3216) for more information.