Each year, the Robert Nusbaum Center sponsors educational initiatives that both engage the campus community and reach beyond the University to invite the larger public into exploration of religious, racial, and ideological differences.
Many events are arranged in collaboration with local organizations and faith communities, and through partnerships with various Virginia Wesleyan departments and student organizations.
Speakers' perspectives are intended to invite civil discussion and dialogue, but don't necessarily reflect the policy or position of Virginia Wesleyan University. Please join us for these special opportunities to build bridges of understanding between people of different worldviews.
All Nusbaum Center events are free, open to the public, and are held on the VWU campus.

Why Barbie Matters: An Interdisciplinary Approach
Thursday, September 14
Noon – 1:00 p.m.
Brock Commons
In its first two weeks the movie "Barbie" topped $1 billion in ticket sales around the world. Some moviegoers were attracted to the humor or the surreal pink world of Barbieland; others to the values of the alternate universe. Some left the theater reflecting on nostalgia, sexism, feminism, and patriarchy. Others wondered about the movie's tagline, "She's everything. He's just Ken." And many were eager to find the text of America Ferrara's speech. The movie "Barbie" can be understood in many different ways. Join a panel of VWU professors as each focuses on the movie through the perspective of their own academic discipline: political science, psychology, theater, and religious studies.
Panelists include:
Leslie Caughell, Ph.D. (political science),
Terry Lindvall, Ph.D. (religious studies),
Taryn Myers, Ph.D. (psychology), and
Sally Shedd, Ph.D. (theatre)
No Longer Seen as the Criminal: A Personal Story of Expunging Convictions from a Trafficking Survivor's Record
Constitution Day Event
Tuesday, September 19
Noon – 1:00 p.m.
Blocker Hall Auditorium
Human trafficking is widely recognized as a modern-day form of slavery, with hundreds of documented cases in Virginia. Trafficked individuals frequently are forced or coerced into prostitution, selling drugs, theft, violence and more. The victims who are convicted of those crimes are then plagued by a criminal record even if they manage to escape from being trafficked.
In 2021, a law was passed in Virginia that made it possible for sex trafficking survivors to petition to vacate, or clear from their record, certain charges like prostitution if they could show the crime was committed due to being trafficked.
Please join us for a discussion on human trafficking in Coastal Virginia and this new law, as we host Olivia--the first person in Virginia to have had her convictions vacated--Meg Kelsey, the attorney who filed the petition on behalf of Olivia, and Ramin Fatehi, Norfolk Commonwealth's Attorney, who help us understand more clearly the legal implications and necessary shift in viewing trafficking victims as survivors and not criminals.
Olivia is a survivor of human trafficking who was first trafficked at 18 years old. Like many others who are trafficked, she wound up with a criminal record and ended up in prison. Olivia was the first trafficked individual in Virginia to have her Petition for Writ of Vacatur granted.
Margaret "Meg" Kelsey, Esq. is Assistant Director of the Center for Global Justice at the Regent University School of Law. She served for five years as an Assistant Commonwealth's Attorney, worked 'of-counsel' for a private firm and was a Fellow at the Center for Ethics and Public Service at the University of Miami School of Law.
The Honorable Ramin Fatehi has served since 2022 as the Commonwealth Attorney for Norfolk. Ramin joined the Norfolk office in 2012 after previously serving as a former public defender and state and federal prosecutor.
Why Oppenheimer Matters: An Interdisciplinary Approach
Thursday, September 28
Noon – 1:00 p.m.
Brock Commons
As viewers watched the highly anticipated movie "Oppenheimer," some were excited to experience the Christopher Nolan aesthetic, the shifting storyline, or even the overwhelming visuals and the rumbling they felt in the theater. Others were eager to learn more about a significant figure in American history, the dark side of a scientific discovery, or the ethical challenges of war. "Oppenheimer" can be understood in many different ways. Join a panel of VWU professors as each one focuses on the film from the perspective of their own academic discipline: film, philosophy, history of science, international relations, and political science.
Panelists include:
Larry Hultgren, Ph.D. (philosophy)
Kevin Kittredge, Ph.D. (chemistry/history of science)
Stu Minnis, Ph.D. (media/communication/film)
Antje Schwennicke, Ph.D. (political science/international relations)
My Personal Sins: Why I Wrote a Book on the Seven Deadly Sins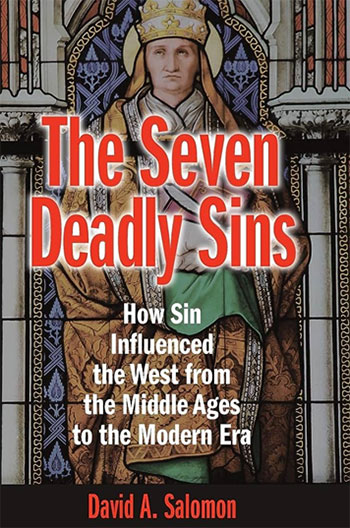 Tuesday, October 10
Noon – 1:00 p.m.
Brock Commons
The seven deadly sins often seem like tropes or stereotypes. But the concept of sin itself has been integral to the development of Western society, not just in political and religious history, but also in popular culture. Why do these seven sins matter today? How have they come to be seen in new ways? Need they be seen as religious in any way? And do they still matter for morality today?
Presented by: David Salomon, Ph.D., Director of Research and Creative Activity at Christopher Newport University, is a specialist in the literature, religion, and culture of the Middle Ages and Renaissance.
Forging Unity for Collaborative Action: Listening and Finding Common Ground in Western Bayside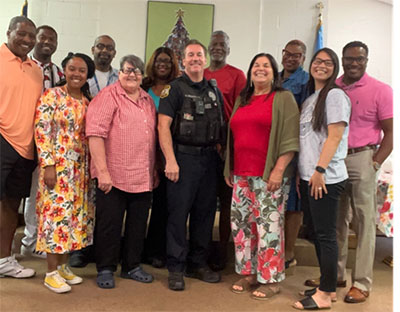 Thursday, October 12
6:30 - 8:30 p.m.
Brock Commons
Registration required: Call 757.455.3129 or register online.
In this initial forum, diverse stakeholders will discuss concerns and aspirations for the Western Bayside community. The forum seeks to identify common themes, challenges, and goals, and cultivate a shared understanding of needed changes.
Forgotten Disney: Challenges in Disney's First 100 Years
Tuesday, October 17
Noon – 1:00 p.m.
Brock Commons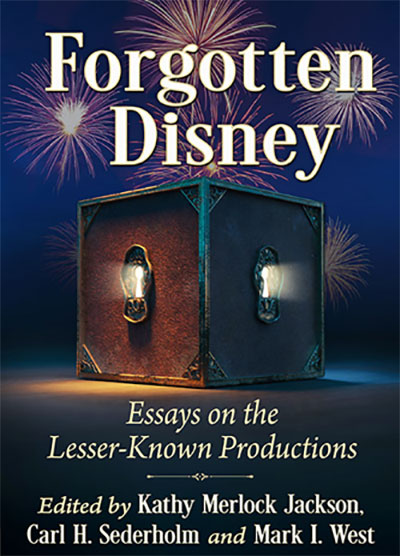 During the last year it has been a rare week when the relationship between Disney World and the state of Florida hasn't been in the news. But different challenges existed during Disney's first 100 years. Although the company's major successes transformed filmmaking and culture, it also had its share of unfinished projects, unmet expectations, and box-office misses. Few people today, for instance, remember Disney comics or Disney's misstep with "The Watcher in the Woods" (1980), a horror film that starred Bette Davis. At the same time, gems like "The Gnome-Mobile" (1967) have been overlooked, even during a time when eco-fiction is seen as more relevant. And "Babes in Toyland" (1961) didn't turn out as expected. Reflecting on her most recent book, "Forgotten Disney: Essays on the Lesser-Known Productions," VWU Professor Kathy Merlock Jackson points to some forgotten challenges of a company many of us take for granted.
Presented by: Kathy Merlock Jackson, Ph.D., Professor of Media and Communication at Virginia Wesleyan University. A noted expert on Disney, she teaches courses in media studies and children's culture, coordinates the communication internship program and childhood studies certificate program, and advises the VWU Ethics Bowl team.
Unbreakable Bonds: A Veteran's Journey to Accepting Assistance and Love from a Service Dog
Thursday, October 19
11:00 a.m. – 1:00 p.m.
Brock Commons
This program offers two separate sessions. Please feel free to attend one or both sessions.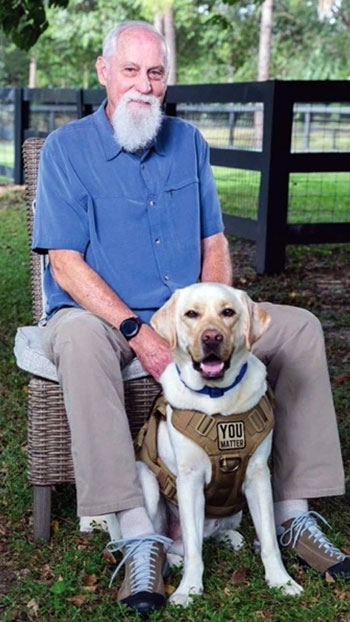 Unbreakable Bonds: A Veteran's Journey to Accepting Assistance and Love from a Service Dog
11:00 a.m. - Noon
Hear Bobby Klepper's heartwarming story about how his service dog, Recon, not only saved his life but made life for him worth living again. Bobby is a retired member of the Virginia State Police, Vietnam-era veteran, and former Explosive Ordnance Disposal (EOD) technician (a "bomb tech"). He is an advocate for various veterans' issues, and once rode a motorcycle from Virginia Beach to San Diego while wearing a "bomb suit" to fundraise and raise awareness in support of wounded EOD personnel. In 2022, Recon was honored as the American Humane Service Hero Dog for his lifesaving act when Bobby was injured. Please join Bobby and Recon to learn about their special journey and deep bonds.
---
Mutts With A Mission
Noon – 1:00 p.m.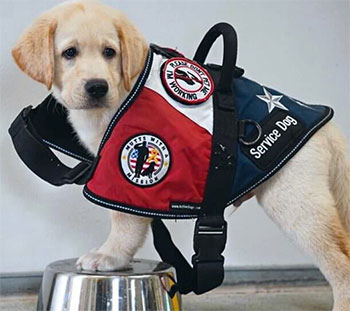 After witnessing the positive impact dogs provided to troops returning from overseas deployments, Brooke Corson founded Mutts With A Mission in 2008 to provide specially trained service dogs to assist disabled veterans, first responders, and law enforcement professionals. Learn about how Recon was trained and about the special role of puppy raisers. Mutts With A Mission could not exist without puppy raisers, and the organization pays all related expenses for volunteers who open their hearts and homes to puppies in training to become service dogs. Come meet some of the puppies and find out how you can become a puppy raiser and give someone the life-changing gift of a service dog.
Hunting Down Runaways, Informal Policing, and Fugitive Slave Advertisements
Thursday, October 26
Noon – 1:00 p.m.
Brock Commons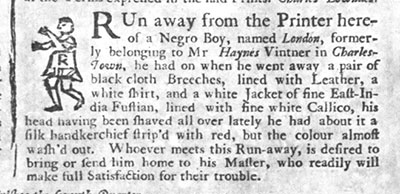 In this talk, Thomas Brown highlights an aspect of policing in 18th-century Charleston, South Carolina, one in which informal policing meant that white men could stop any Black person and take property from them if they suspected it was stolen. In addition, from his research on "Fugitive Slave Advertisements in The City Gazette: Charleston, South Carolina, 1787-1797," Brown shares with us—one advertisement at a time—a series of human dramas of courage and resistance to unjust authority. Brown reflects on what fugitive slave ads tell us and on why these individual narratives are significant in understanding slavery and law enforcement.
Presented by: Thomas Brown, Ph.D., Associate Professor of Criminal Justice-Sociology at VWU, is a scholar of ethnic nationalist movements, transracial individuals and groups, racial boundaries in U.S. history, terrorism, gangs, and organized crime.
AI in Academia: The Allure of ChatGPT's Pedagogical Potential
Tuesday, October 31
Noon – 1:00 p.m.
Brock Commons
Within the last year, artificial intelligence has come to affect almost every aspect of higher education. This raises philosophical questions about what constitutes authorship, but it also highlights how students can grow in qualitatively and quantitatively different ways. During this session, we showcase four pathways VWU faculty are using to create new experiences for students. Education students, for instance, are using AI lesson-planning software in thinking about science pedagogy. Religious studies students are using AI to understand more deeply affective aspects of extreme religious rituals. Students who will study abroad are using ChatGPT as a research tool that helps them simulate aspects of studying away. And students in teacher education are taught the skills to critically examine the output of ChatGPT. Join us for four brief presentations, along with a discussion of new challenges and possibilities in higher education.
Presenters include:
Rebecca John, Ph.D., Assistant Professor of Education,
William McConnell, Ph.D., Batten Associate Professor of Education and Director of Teacher Education,
Mandy Reinig, M.A., Director of Global Engagement, and
Craig Wansink, Ph.D., Batten Professor of Religious Studies and Joan P. and Macon F. Brock, Jr. Director of the Robert Nusbaum Center.
Elusive Trust: Unconscious Bias between Police and the Communities They Serve
Cookson Lecture
Thursday, November 2
7:00 – 8:00 p.m.
Brock Commons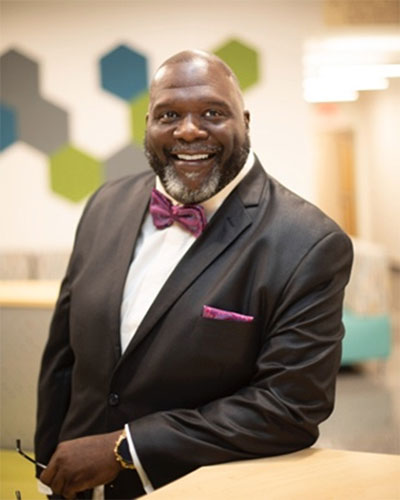 Why do so many communities not trust the police? Why do so many police not trust the communities they serve? In this talk, Robert Perkins highlights how the current state of affairs in policing necessitates a reinvigorated commitment to the critical components of community policing. This involves a critical analysis of the unconscious biases that everyone has and the deliberate cultivation of strategies that increase self-awareness, mutual understanding, and—ultimately—trust. When trust is so elusive, how do we move forward? That is the focus of our time together this evening.
Presented by: Robert K. Perkins, Ph.D., Professor of Sociology at Norfolk State University, is the Program Coordinator for the Master of Arts in Criminal Justice and the Master of Arts in Urban Affairs at NSU. His research focuses on different social phenomena in social inequality, criminal justice, immigration, environmental racism, and implicit bias. Locally he serves with several organizations, including the Norfolk Community Criminal Services Board for the City of Norfolk and The Fair and Impartial Policing Workgroup for the City of Norfolk Police Department.
The Cookson Lecture was established in honor of Catharine Cookson, Ph.D., J.D., who was the first fulltime director of the Robert Nusbaum Center, formerly the Center for the Study of Religious Freedom.
Forging Unity for Collaborative Action: Creating a Unified Vision for the Future of Western Bayside
Thursday, November 9
6:30 - 8:30 p.m.
Brock Commons
Registration required: Call 757.455.3129 or register online.
Building on the October forum, stakeholders will engage in facilitated conversations around shared interests and areas of alignment. This forum is designed to guide stakeholders in a collaborative process to develop a unified vision with objectives and goals for achieving desired outcomes in the community.
Religion in Outer Space: Myth, Diversity, and the Final Frontier
Thursday, November 16
Noon – 1:00 p.m.
Blocker Hall Auditorium
In a world in which UFOs continue to raise questions, in a world in which billionaires seek to travel to space, and in a world in which "Star Trek" and "Star Wars" continue to hold people's imaginations, how do religions approach outer space? How do they affect space exploration? What do religions say about worlds beyond this one? Join Eric Mazur, Professor of Religious Studies at Virginia Wesleyan University and editor of "Religion and Outer Space" (published July 2023), as he introduces some of the varied relationships between outer space and the beliefs, scripture, and practices of religion. He also explores the ways in which religion and myth have had a profound impact on how we've come to visualize the American space program.
Presented by:
Eric Mazur, Ph.D., is the Gloria and David Furman Professor of Judaic Studies at VWU and the Fellow for Religion, Law, and Politics for the Robert Nusbaum Center.
Policing: What Should We Do to Ensure Fair Treatment and Keep Neighborhoods Safe for Everyone
Thursday, November 30
Noon – 1:00 p.m.
Brock Commons
While white Americans have mostly had positive encounters with police, many people of color distrust and even fear law enforcement officers because of a long history of violence and discrimination. Many police chiefs and officers want more accountability and fairness, but policing policies and reform require crucial decisions to be made.
In this deliberation, facilitated by VWU students trained by the Nusbaum Center, participants will discuss three broad options for rethinking police practices, each suggesting a different set of reforms and different ways of thinking about how to keep communities safe. The three options offer a framework to tackle tough questions: What should we do? What are the risks and potential tradeoffs? What actions can we support and what might we be willing to give up?