Spring 2022 Events
Each year, the Robert Nusbaum Center (NC) sponsors educational initiatives that both engage the campus community and reach beyond the University to invite the larger public into exploration of religious, racial, and ideological differences.
Many events are arranged in collaboration with local organizations and faith communities, and through partnerships with various Virginia Wesleyan departments and student organizations.
Speakers' perspectives are intended to invite civil discussion and dialogue, but don't necessarily reflect the policy or position of Virginia Wesleyan University. Please join us for these special opportunities to build bridges of understanding between people of different worldviews.
Unless otherwise noted, all Nusbaum Center events are free, open to the public, and are held on the VWU campus.
Face masks are required at all in-person events during this spring semester.
Pandemic Ethics: Ethics Bowl Demonstration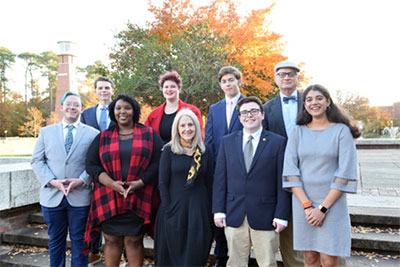 Pandemic Ethics
Thursday, January 27, 2022
7:00 – 8:30 p.m.
Lighthouse Center for Exploration and Discovery, Clarke Hall
The Virginia Foundation for Independent Colleges' (VFIC) annual Wells Fargo Ethics Bowl competition brings together student teams from each of the 15 VFIC member institutions for lively debate and consideration of applied ethics – real world ethical dilemmas that affect people's lives in increasingly complex ways. As the Virginia Wesleyan Ethics Bowl team prepares to compete at the 2022 Ethics Bowl, the Nusbaum Center hosts a debate demonstration, with members of the audience having the opportunity to interact, critique, and discuss. Please join us to help VWU students prepare for the competition on January 30 and 31 at Randolph-Macon College in Ashland, VA. The topic Pandemic Ethics asks teams to consider decisions that individuals, families, businesses, and organizations have needed to make throughout the COVID-19 pandemic.
The Virginia Wesleyan 2022 Ethics Bowl team members are Casey Bennett '25 (Chemistry & Psychology major from Williamsburg, VA), Christian Palmisano '25 (History major from Califon, NJ), Rowan Stuart '25 (Business & Communication major from Sgosset, NY), Kainaat Trehan '24 (Psychology & International Studies major from New Delhi, India), with VWU Professor of Communication Dr. Kathy Merlock Jackson as faculty coordinator, and Amalia Houff '25 (Biology & Psychology major from Honolulu, HI) as an alternate. Special thanks to veteran VWU Ethics Bowl team members Anitra Howard '21 (Political Science major from Riverdale, MD) and Criofan Shaw '23 (Psychology major from Suffolk, VA), and Hank Howell, Esq.
VWU Welcomes Visiting Scholar in Africana Studies Program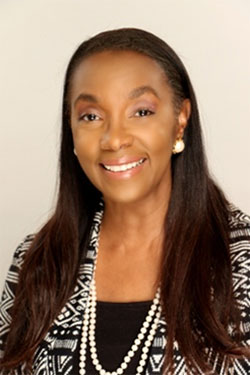 The Overlooked Voices of Hurricane Katrina: The Resilience and Recovery of Mississippi Black Women
Tuesday, February 8, 2022
Noon – 1:00 p.m.
Susan S. Goode Fine and Performing Arts Center
Dr. Ophera Davis brings new voices to the forefront as black women from Mississippi share their stories and strategies of survival and recovery before, during, and after Katrina. These women provide, in their own words, lessons learned and strategies for how to rebuild life after disasters. Please join us as Dr. Ophera A. Davis, author of The Overlooked Voices of Hurricane Katrina, discusses her groundbreaking work. A book signing immediately follows the presentation.
Ophera A. Davis, Ph.D., is an author, independent scholar, and 20-year affiliate faculty member who has taught in African studies and psychology departments at colleges in Boston. This spring, Virginia Wesleyan welcomes Dr. Davis as our visiting scholar in the university's new Africana Studies program.
Sponsored in partnership with Virginia Wesleyan's Africana Studies Program and Office of Gender and Sexuality Equity
Practical Tools for More Effective Communication and Leadership
Incivility seems to be the norm now in public life. Communication across diverse perspectives is too often caustic and crass. Leaders are even praised for communicating in ways that were previously considered intolerable in a civil society. These events focus on building skills for communicating positively and effectively.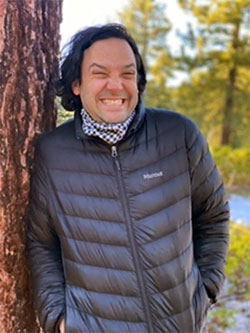 Your Story Well Told
Tuesday, February 15, 2022
Noon – 1:00 p.m.
Susan S. Goode Fine and Performing Arts Center

During this one-hour workshop, Corey Rosen, award-winning writer, actor, and storytelling teacher, leads participants in activities that give them the chance to interact and share stories that explore how storytelling can be used to bridge and reconcile religious, racial, and ideological differences.
Corey Rosen has hosted 105 live events for The Moth, The Moth StorySLAM, and its GrandSLAM. Rosen has been featured on "The Moth Radio Hour" and in many podcasts, and he has been credited in movies such as "Mission: Impossible," several "Star Wars" films, and Disney's "A Christmas Carol." In addition, he has directed television commercials and Emmy award-winning short films.
---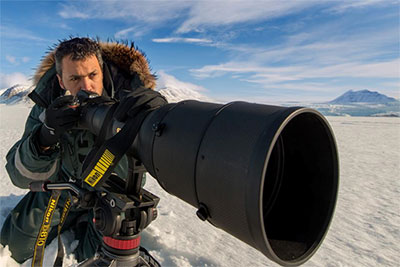 Achieving the Unachievable: The Power of Networking and Failures
The Perspective of a World-Renowned Wildlife Photographer
Tuesday, March 1, 2022 Noon – 1:00 p.m.
Susan S. Goode Fine and Performing Arts Center
Roie Galitz is a world-renowned wildlife photographer, who travels to the world's most extreme habitats and documents animals as never seen before. This talk—based on Galitz's personal experience as an extreme adventurer and wildlife photographer—focuses on setting impossible goals and reaching them through networking, self-empowerment, and negotiating failures.
Roie Galitz, known to many from his three TED talks, is not only a world-renowned wildlife photographer and environmental diplomat but also a Greenpeace Ambassador and featured speaker around the globe.
The Nusbaum Center is grateful for the ongoing partnership with the Konikoff Center for Learning of the United Jewish Federation of Tidewater and the Simon Family JCC's Lee & Bernard Jaffe Family Jewish Book Festival, in coordination with the Jewish Book Council, which has made these two events possible.
Love Liberally: C.S. Lewis, Love, and Lindvall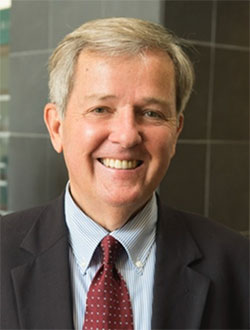 Homely, Friendly, Erotic, and Divine: The Four Loves of C.S. Lewis
Thursday, February 17, 2022
Noon – 1:00 p.m.
Susan S. Goode Fine and Performing Arts Center
C.S. Lewis scholar Dr. Terry Lindvall unpacks Lewis's classic work, The Four Loves, from its chilly inception to its practical wisdom. In this short book, Lewis, with his wife, Joy, opened up the windows of four kinds of love: storge, philia, eros, and agape, experiences of loving that help us enjoy these gifts bestowed by God. But be forewarned, as Lewis noted about their danger, "Love anything and your heart will be wrung and possibly broken. If you want to make sure of keeping it intact you must give it to no one, not even an animal."
Terry Lindvall, Ph.D., has held VWU's C. S. Lewis Chair in Communication and Christian Thought since 2006. He is a prolific author on Lewis, as well as on film and humor.
This presentation is part of a Love Liberally symposium held annually around Valentine's Day to explore the concept of love through a variety of disciplinary lenses. For information on other opportunities, please visit the VWU website.
The In[HEIR]itance Project: Exodus Coastal Virginia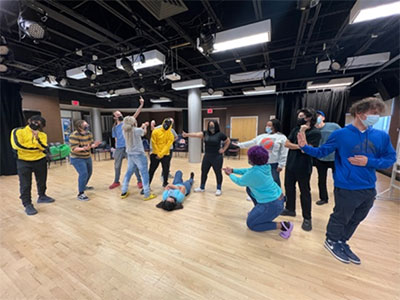 Creating a Play on Civic and Racial Dynamics in Coastal Virginia: The In[HEIR]itance Project
Monday, February 21, 2022
7:00 – 8:30 p.m.
Susan S. Goode Fine and Performing Arts Center
The In[HEIR]itance Project
is a national arts organization that helps unconnected neighbors navigate challenging civic conversations through collaborative theatre projects. Using the unique history of Coastal Virginia and the book of Exodus, during the last four months the I[H]P has generated community dialogue on racial dynamics, redlining, and displacement. This work is the basis for a play I[H]P is creating for the Virginia Arts Festival, to be performed in May 2022. During this February event, I[H]P will share scenes and initial ideas for the play, and the audience is asked to give feedback to help hone and shape the stories into the play itself. The play premieres at Norfolk's historic Attucks Theatre on Thursday, May 5, 2022. Tickets offered through the Virginia Arts Festival.
Support provided by the Hampton Roads Community Foundation and Virginia Humanities.
Virginia Festival of Jewish Film
Purchase tickets for these and other films offered by the Virginia Festival of Jewish Film.
---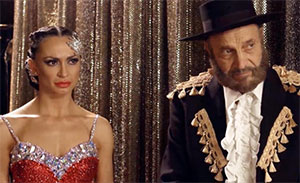 Tango Shalom
This event includes a conversation with stars from the film, followed by a dessert reception.
Saturday, February 26, 2022
7:30 – 10:30 p.m.
Susan S. Goode Fine and Performing Arts Center
Tickets: $25. Limited seating; pre-purchase strongly suggested
Director Gabriel Bologna | 115 min | USA | 2020 | English | PG-13
It is fitting that a comedy is the first film collaborated on by the Vatican, a Hasidic Synagogue, a Mosque, and a Sikh Temple. From the director of "My Big Fat Greek Wedding," "Tango Shalom" features an award-winning ensemble cast that includes Lainie Kazan, Renee Taylor, Joseph Bologna and Dancing with the Stars pro Karina Smirnoff.
Moshe Yehuda, a Hasidic Rabbi and amateur Hora dancer enters a Tango competition to save his Hebrew school from bankruptcy. Due to his orthodox beliefs, however, he is not allowed to touch a woman. At odds with his family, the Grand Rabbi of his orthodox sect, and the entire Hasidic community, Moshe asks a Catholic priest, a Muslim Imam and a Sikh holy man to help him dance in the Tango contest "without sacrificing his sacred beliefs." "Tango Shalom" tests the bonds of family and community, as well as the bounds of tolerance and faith.
---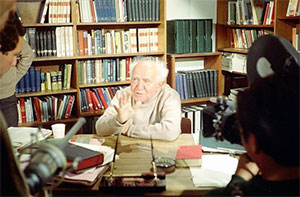 Ben Gurion Epilogue 
This event includes a discussion with world renowned producer Yaell Perlov.
Sunday, February 27, 2:30 – 4:30 p.m.
Susan S. Goode Fine and Performing Arts Center
Tickets: $12. Limited seating, pre-purchase strongly suggested.
Director Yariv Mozer | 70 min | Israel | 2016 | Hebrew with English Subtitles | Not Rated
Newly discovered 1968 interview footage shows David Ben Gurion at age 82, five years before his death. Living in the seclusion of his home in the desert, remote from all political discourse, he offers his perspective on the Zionist enterprise. His introspective soul-searching is the focus of this film, and his reflections provide a surprising vision for today's crucial decisions and for the future of Israel.
Yael Perlov is the two-time winner of the Israeli Academy Prize for film, laureate of the Art of Film prize of the Ministry of Art and Culture, senior lecturer at the Film and Television Department at Tel Aviv University, and currently a visiting scholar at Duke University.
These two films are offered in partnership with the United Jewish Federation of Tidewater as part of the 29th Annual Virginia Festival of Jewish Film presented by Alma & Howard Laderberg. As one of the longest-running Jewish film festivals in the country, the mission of the Virginia Festival of Jewish Film is to educate and engage diverse Tidewater communities, Jewish and non-Jewish alike, by presenting world-class film premieres, repertory cinema, and associated programs that are inspired by Jewish or Israeli history, heritage, and values.
Extreme Religion: A Monday Evening Zoom Series
Exorcism, female circumcision, and free love with multiple partners are far beyond most of our religious experiences. Yet for some people of faith, they are normal. Baruch Spinoza once said, "I have made a ceaseless effort not to ridicule, not to bewail, nor to scorn human actions, but to understand them." This series invites three authors to VWU, over Zoom, who help us understand more clearly religious practices that some may see as peculiar—or even indefensible.
Register online for the Zoom the Zoom events, or call the Nusbaum Center at 757-455-3129.
---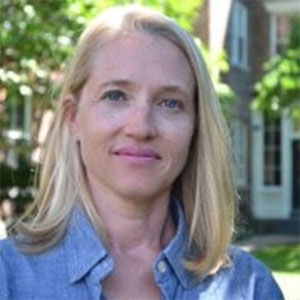 Electric Sex, Sticky Love, and Complex Marriage: Religion, Sex, and the Oneida Community
Monday, March 7,  2022
7:00 - 8:00 p.m. 
Registration required by March 3
For many Americans, the word "Oneida" is associated with fine silverware. The origin of the utopian community that came to make such silverware is less well known. In the mid-19th century, John Humphrey Noyes established a revolutionary community in rural New York centered on achieving a life free of sin through God's grace, while also espousing equality of the sexes and "complex marriage," a system of free love where sexual relations with multiple partners was encouraged. In Oneida: From Free Love Utopia to the Well-Set Table, Dr. Ellen Wayland-Smith—a scholar and a descendant of John Humphrey Noyes—describes the captivating story of the community's evolution. In this Zoom presentation and discussion, she introduces us to the community and focuses on its most unusual and misunderstood practice: "complex marriage."
Ellen Wayland-Smith, Ph.D., is Associate Professor of Writing at the University of Southern California. She is the author of Oneida: From Free Love Utopia to the Well Set Table and of The Angel in the Marketplace: Jean Wade Rindlaub and the Selling of America.
---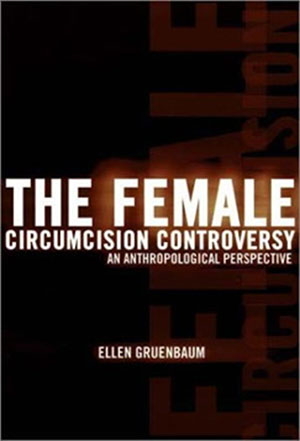 The Religious Case for Female Genital Cutting
Monday, March 21, 2022
7:00 - 8:00 p.m. 
Registration required by March 17
In The Female Circumcision Controversy, Dr. Ellen Gruenbaum points out that Western outrage and efforts to stop genital mutilation often provoke a strong backlash from people in the countries where the practice is common. While she looks at the validity of Western arguments against the practice, she concentrates particularly on the complex attitudes of those who practice it and on indigenous efforts to end it. Dr. Gruenbaum humanizes the adherents of the practice, shows the complexities of it, helps readers move beyond indignation, and gives them hope. In this Zoom presentation and discussion, she shows us an important method in working toward social change and then answers our questions.

Ellen Gruenbaum, Ph.D., is Professor Emerita and former Chair of the Department of Anthropology at Purdue University. Using a feminist anthropological framework, Dr. Gruenbaum's research focuses on women's health issues, human rights, religious practices, and development in Africa and the Middle East.
---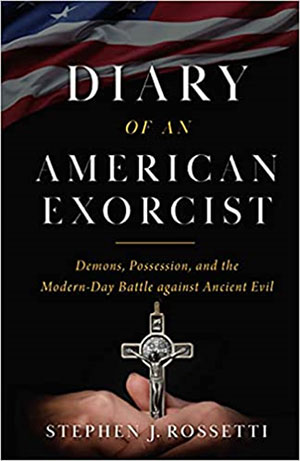 A Conversation with an American Exorcist: Demons, Possession, and the Modern-Day Battle against Ancient Evil
Monday, April 25, 2022
7:00 - 8:30 p.m.
Registration required by April 21

In the gospels Jesus exorcises demons and also explicitly tells his disciples to heal, preach, and cast out demons. If Christians do not see exorcism as normative to their faith—and many Christians clearly do not—in what sense are they being true to his example and command? Msgr. Stephen Rossetti has participated in hundreds of exorcisms. In Diary of an American Exorcist, he gives a personal, inside look at the intense experiences and practices of an exorcist. In this Zoom presentation, Dr. Rossetti reflects on his book and answers your questions.

Msgr. Stephen J. Rossetti, Ph.D., is the President of the St. Michael Center for Spiritual Renewal and a research associate professor at the Catholic University of America in Washington, D.C. A licensed psychologist, Dr. Rossetti is the author of The Joy of Priesthood and several other books. For decades he has worked toward the prevention of child sexual abuse and raising awareness of the effects on victims. He is a graduate of the United States Air Force Academy and was commissioned as a second lieutenant. Msgr. Rossetti also has served as chaplain for the Washington Nationals since 2009.
Racial Dimensions of Peace, Peace Pole Dedication, and Reception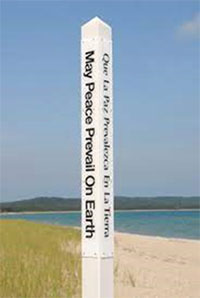 Dedication of the Peace Pole at VWU
No Justice, No Peace: How Black and White Americans Define Peace Differently
Thursday, March 24, 2022
Noon – 1:00 p.m.
Lighthouse Center for Exploration and Discovery, Clarke Hall
Most White Americans describe peace as the absence of war or the lack of threat of direct violence from an individual or group. Black Americans, on the other hand, frame peace as the absence of direct, structural, and cultural violence of systemic racism. For the first 30 minutes of this event, Dr. Jeff Toussaint shares insights from his research on how Black and White Americans conceptualize peace differently and offers practical tips for how to become more effective peacemakers. Following his talk, we will move to the Peace Garden to dedicate the planting of a Peace Pole and share refreshments.
Jeffrey Toussaint, Ph.D., Assistant Professor of Sociology-Criminal Justice at VWU, earned his Ph.D. at Virginia Polytechnic Institute and State University. His current research focuses on the intersection of race, racism, anti-racism, and peace. Dr. Toussaint's work examines how living in a racialized society shapes and informs our ideas and lived experiences on defining peace.
The Peace Pole is made possible by the Presbytery of Eastern Virginia Peacemaking Committee in recognition of peacemaker William Granville Sale, Jr.
Roe by Lisa Loomer: Talk Back Sessions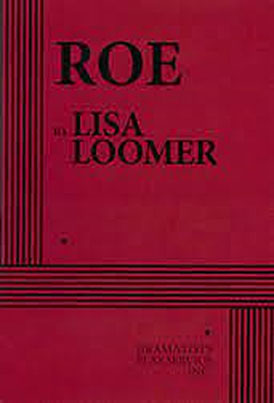 "Roe" by Lisa Loomer
Thursday, March 31 – Saturday, April 2, 2022 at 7:00 p.m.
Sunday, April 3, 2022 at 2:00 p.m.
Susan S. Goode Fine and Performing Arts Center
Tickets: vwu.tix.com.  Free to VWU students, faculty, and staff.
Directed by Professor of Theatre Dr. Sally Shedd, VWU Theatre presents Roe. Roe v. Wade, the landmark 1973 case that legalized abortion, is still fiercely debated 50 years later. In this play, Lisa Loomer cuts through the headlines and rhetoric to share the post-Roe divergent personal journeys of lawyer Sarah Weddington and plaintiff Norma McCorvey ("Jane Roe").  Shocking, humorous, and poignant, Roe reflects the polarization in America today while illuminating the pain and passion of each side.
Talk Back Sessions
The Robert Nusbaum Center, in collaboration with VWU's Office of Gender and Sexuality Equity and VWU Theatre, is pleased to host opportunities to reflect on and discuss issues raised in the play.
March 31 – April 2
Facilitated discussions immediately following the evening performances offer safe space for civil conversations about the major points of tension in the play.
April 3
A panel representing diverse perspectives discusses historical, legal, theological, cultural, and personal challenges raised by Roe.
Social Murder and the Geography of Injustice: The Justine L. Nusbaum Lecture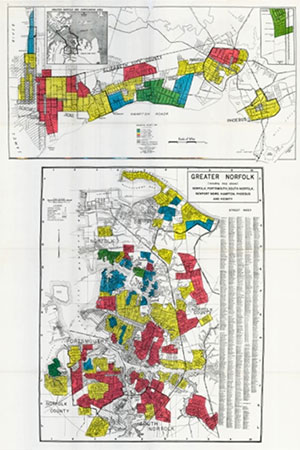 Social Murder and the Geography of Injustice: Compounding Socio-Environmental Impacts of Segregation in Coastal Virginia Hampton Roads
Tuesday, April 12, 2022
7:00 – 8:15 p.m.
Susan S. Goode Fine and Performing Arts Center
The lines of racial segregation in most U.S. metropolitan areas are as stark today as at any point since Reconstruction. This is not an accident, and it didn't happen overnight. Dr. Johnny Finn provides an overview of the theoretical and historical underpinning of racial segregation in Coastal Virginia; presents his research team's findings on today's landscape of racial, economic, and environmental inequality that is the legacy of nearly a century of segregationist housing policies; and reflects on important next steps for our region.
John C. Finn, Ph.D. is an Associate Professor of Geography and Chair of the Department of Sociology, Social Work, and Anthropology at Christopher Newport University. His research focuses on racial capitalism, critical landscape studies, and environmental justice to better document ongoing economic, environmental, and health impacts of persistent racial segregation in the United States and to advocate for a more racially and environmentally just future. For the last four years, Dr. Finn has directed the mixed-methods project, "Living Apart: Geography of Segregation in the 21st Century."
This annual endowed lectureship pays tribute to the life of Justine Nusbaum, a local humanitarian—born in 1900—whose compassion and generosity reached people of diverse religions, races, and nationalities.