For Employers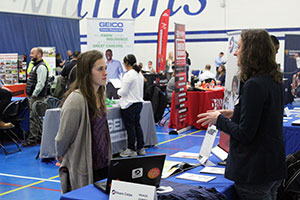 Career Fair
Employers desiring to visit Virginia Wesleyan for recruitment purposes may choose from three options:
Company Information Table: We will set up a table for your company in the Jane P. Batten Student Center where you may speak informally with students.
Company Presentation: We will reserve a room for you to give a presentation.
Campus Interviews: Employers may conduct interviews on campus either by pre-selection or open appointment.
To arrange a campus recruitment event, please contact our director of the Career Development Program, Ms. Jessica Harrington, by phone at 455.3107 or by email at jharrington@vwu.edu.
---
Marlin Careers 
Marlin Careers, powered by Purple Briefcase, is the best place to post part-time, full-time, and internship opportunities.
Set up your FREE account by following these steps:
Create an account by clicking: Marlin Careers.
Fill in the information, and click Continue.
Navigate to the My Schools page. Scroll down to the Request Access section, and select VA. After the schools load, scroll down to Virginia Wesleyan University, and click Request Connection.
We will approve your profile within 1-2 business days, and you will be able to connect with students and post job and internship opportunities.
---
What You Should Do Now
Brand Your Company:
Build your company's profile including a 200x200px image of your company's logo!
Complete your company's profile. This attracts more interest than an incomplete profile. Profiles are managed on the My Profile page of your Marlin Careers account.
Post an Internship or Job Opening so students get your postings;
Enter your job or internship opportunity. Then hit Submit.
Click Save at the bottom of the page after you finish.
Watch for an email from indicating that your posting has been published to the VWU student community