Student Success Stories
'Batty' for Undergraduate Research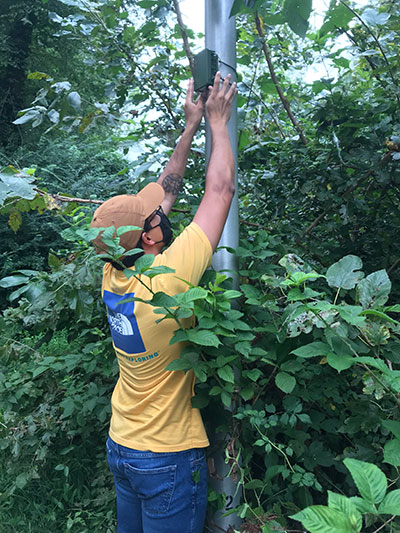 When Ezekiel Herrera-Bevan '21 walked into the Old Growth Beech Forest on VWU's campus, he had no idea how that environment would change his perspective on biology, ecology, his future plans, and bats.

"It was nice to walk into the Old Growth Beech Forest to get data and become immersed in a totally different environment that's on campus. Overall, it was intriguing to observe and see aspects of biology and ecology that I learned in classes and by writing papers out in real environments while doing my research."

His undergraduate research project, conducted under the mentorship of Dr. Katrina Henry, Assistant Professor of Physics and Earth and Environmental Sciences, focused on bat community ecology in two environments, one artificially lit and the other in the Beech Forest.

To support his research, Ezekiel applied for and received an Undergraduate Research grant and, in summer 2020, the VFIC Undergraduate Science Research Fellowship. Both grants provided support to fund equipment critical to the success of the research.

"With the funding, I obtained two stationary bat recorders to record bat species presence and activity in the two environments. Professor Henry and I developed graphical methods to measure activity. The goal was to deploy the recorders at the beginning of fall and, over the course of a month and a half, obtain bat activity data thirty minutes before sunset and thirty minutes after sunrise. With bioacoustical software, we could determine the species present in both environments. The goal of the study was to see which environment had more bat biodiversity and activity."

An unexpected result of the research served as his most memorable moment.

"We were running the data through the bioacoustic analyzer for the first time and seeing the summary of the species identified. I clearly remember having my hand over my mouth, just staring at the screen. It was all because the data showed that there was a presence of three endangered species in both environments. I never in my life thought I would observe an endangered species for research, but three made it so much more memorable. Also, I saw the range expansion of the Mexican free-tailed bat which only recent research had proposed, so it was great to confirm such up to date research."

For this Earth and Environmental Sciences major and Mathematics minor, conducting undergraduate research has helped clarify and focus the next step in his academic pathway.

"I know now, after conducting research, that doing further research is something I see myself doing in the future. I definitely fell in love with being in the environment I was learning about. This is why I am applying to graduate schools right now for ecology, conservation, and biology, in the hopes of continuing what I really enjoy doing."

Ezekiel encourages other students to get involved in undergraduate research.

"Go for it! I know that it may seem like a big monumental task, but you can do it, and it's totally worth it! You get to achieve a great accomplishment, but also you get experience in the field or lab, which can help you with jobs and undoubtedly figure out what you would like to do in the future."

He also encourages students to talk to their advisors about a research topic or identify an appropriate advisor based on their backgrounds and expertise.

For more information on Virginia Wesleyan's Undergraduate Research Program, visit The Lighthouse: Center for Exploration & Discovery.