Student Success Stories
Beautiful Lessons: Interning at the Peninsula Fine Arts Center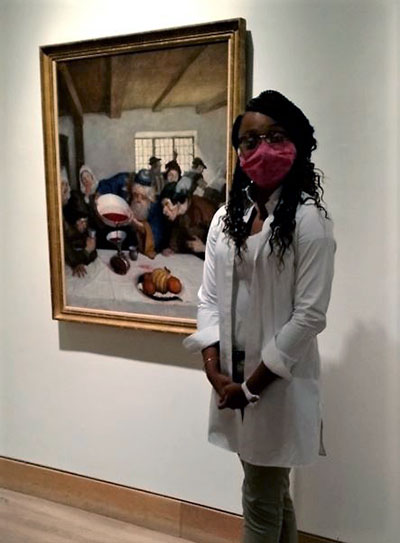 Chloe Clarke '21, an Art major, spent the summer of 2020 immersed in the beauty of art. As an intern with the Peninsula Fine Arts Center in Newport News, Virginia, she was able to experience all aspects of museum work, including exhibit creation and docent work. Her mentor for the experience was Prof. Sharon Swift, Professor or Art, who serves as her academic advisor and was instrumental in preparing her for the experience.
An Interview with Chloe Clarke
What tasks did you complete during your internship?
During my internship at the Peninsula Fine Arts Center, I was able to work with ten members of the faculty and a number of the volunteer art instructors. I spent time with the visual arts, education, and graphic design departments. I learned the correct way to install and remove art exhibits. My work assisting to install the "The Wyeths: Three Generations, Works from the Bank of America Collection," was exciting. I was able to meet and talk with a family member who helped describe the work of each member of the Wyeth family. I helped to pack an exhibit of Mesoamerican pottery and artwork to be returned to the Chrysler Museum. I also conducted research, completed measurements, and gave tours to the public.
How did your experience help focus your academic and career path?
The internship increased my confidence and communication skills just as much as my commitment to the visual arts community. The experience reinforced my appreciation of art and provided me with ideas for finding employment after graduation. I am interested in becoming an active member of the regional visual arts community, including becoming a graphic designer/artist, freelance artist, and fine art advocate.
                       
What is one of your most memorable moments?
Being able to get up close and personal with an assortment of loaned irreplaceable masterpieces and artifacts from various well-endowed institutions gave off an air of humility and appreciation in the arts.
What advice would you give to VWU students considering an internship?
An internship allows a student to explore in the specified field they are interested in and in potential career areas. During the internship, students should focus on developing the needed skills to thrive in the industry. You should be learning from the professionals what you might need to pursue your occupational goals.