Student Success Stories
Building the Chain of Helping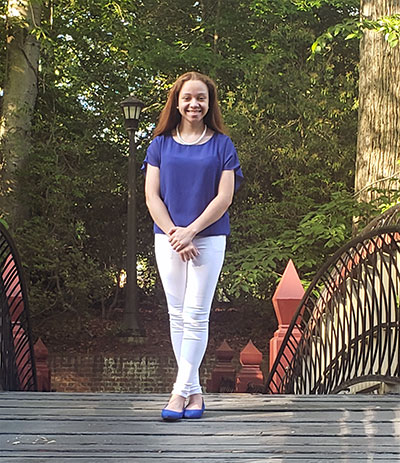 Jennaphur Nixon '23, a Criminal Justice major with Hispanic Studies and Psychology minors, devotes time in service to the campus and Coastal Virginia community through her volunteer efforts. She is active in programming offered by the office of Wesleyan Engaged: Civic Engagement and Service Learning in The Lighthouse, and through her sorority, Zeta Phi Beta Sorority, Inc., which places a significant emphasis on service to others. 
During her career at VWU, she has been an active volunteer with several organizations, including the Tidewater Food Back, where she made food "backpacks'' for children in need, Impact! VA, which involved home repairs, and Volunteer Hampton Roads, where she assisted in building help kits for a number of local non-profit organizations. On campus, she participates in Campus Cleanups, where she helps to keep the campus beautiful by removing debris and trash from public areas.
 An Interview with Jennaphur Nixon
How did your experience help focus your academic and career path?
Ever since I was a kid, I knew that I enjoyed helping people and wanted to do it for a living. Being able to volunteer in different places has helped me learn what my favorite types of volunteer experience are, the ones that allow me to deal with people directly. Because of that, I chose a field that would allow me to engage with different types of people with different needs.
What were the most important takeaways from your experiences?
The most important takeaways for me were being able to know that I helped someone's life to be better. I believe that people who are helped in some way turn around and help someone else, so it's like a chain of people helping each other.
 What did you find most surprising about your experiences?
What I found most surprising about my experiences was the gratitude and hospitality of the people who I helped. I was expecting "thank yous" and handshakes, but I wasn't prepared for people to burst out in tears or constantly come around asking if we needed water or wanted anything to eat. Seeing just how much I've changed someone's life motivates me to do it more.
 What is one of your most memorable moments?
One of my most memorable moments was after building a wheelchair ramp for one woman who hadn't left her house in about 2 years. The amount of gratitude she expressed toward us when she saw the ramp is something I'll never forget. It was an emotional day for everyone.
What is the biggest thing you learned about yourself? 
The biggest thing I've learned about myself is that I work harder when I work with people. When I'm surrounded by people who are just as dedicated as I am, I'm more motivated. Personally and professionally, engagement is important to me because of the connections. No matter how introverted someone is, there will almost always be a time where they need some kind of human contact. I want every connection in my life to be meaningful in some way, so why not better the lives of others while I'm at it.

What advice would you give to VWU students considering a volunteer experience?
I would tell other students to find something that interests them. If you volunteer at an animal shelter, but you don't like animals, then there's a good chance that you're not going to enjoy yourself. That may deter you from ever volunteering again. If you can volunteer somewhere you like, you'll enjoy the time you spend helping others and do it more often.