Student Success Stories
Earth and Environmental Science Student Parlays Undergraduate Research into a Career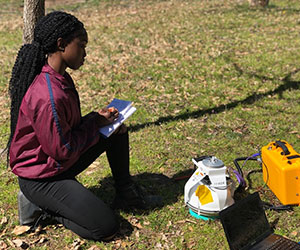 In summer 2016, first-year student Mayanni McCourty '19 (Earth and Environmental Science) landed a research-based internship with Virginia Tech's Multicultural Academic Opportunities Program. Her research, which was published in the Journal of Soil Use and Management in 2018, examined the influence of agricultural manipulation on decomposition and soil respiration. She followed this experience with another research-based internship at Old Dominion University, funded by the prestigious National Science Foundation. In this internship, McCourty investigated how the Pacific Ocean evolved across abrupt warming events using foraminifera as a proxy. Finally, as a junior, McCourty conducted her own independent research at Virginia Wesleyan University where she analyzed the chemical composition and size distribution of aerosols from a local coal terminal using VWU's own Scanning Electron Microscopy and Energy Dispersive Spectroscopy.
With one publication and multiple professional presentations under her belt, McCourty reflected on her academic journey. "As a freshman, I thought that I didn't have enough experience to conduct independent research and participate in internships. But I learned that it is best to start early and gain as much experience as you can early in your undergraduate career."
Elizabeth Malcolm, professor of earth and environmental sciences, echoed the importance of undertaking research at the start of one's academic career. "Over her four years at Virginia Wesleyan, Mayanni has grown tremendously as a student and scholar. Her early experiences in undergraduate research gave her an understanding of how scientific discoveries are made, giving her a new appreciation for course material."
Seizing every opportunity, McCourty gained valuable experience and knowledge over the course of her college career. "My internships were completely different from each other," she explained. "One consisted of fieldwork, and the other was primarily in a lab environment. This allowed me to determine the type of research, career path, and work environment that interest me." She stressed that these experiences were instrumental in helping her to develop a "scientific mindset, skills, and knowledge," which she will employ as a research scientist.
An eager collaborator, McCourty embodies Virginia Wesleyan's commitment to cultivating intellectual communities and dialogue, as Malcolm explains. "Mayanni has been able to bring the knowledge she gained from her research experiences to her classes, giving fellow students a personal appreciation for scientific discovery. She encourages her classmates to apply for research opportunities and has mentored them in research projects and applications for experiences outside of the University."
When asked what advice she would give to other students who are interested in internships or research, McCourty responded, "If you want to conduct research or participate in an internship, speak with a faculty member or academic advisor or stop by Virginia Wesleyan's Lighthouse. They can provide information on opportunities and what you will need to prepare." She also stressed that it is critical to cultivate relationships with Virginia Wesleyan's faculty, who are available to mentor students. "It is important to build connections with faculty because they can always help you in the future. If you don't build these connections and take advantage of the resources on and off campus, you can miss out on great opportunities."
As McCourty prepares to graduate in May 2019, she recounted that her most memorable moment at Virginia Wesleyan was when her research was published. "This showed me how hard work and patience pays off. I am very blessed to have the opportunity to be a lead author of a publication before graduating from college!"
After graduation, McCourty plans to attend graduate school to study atmospheric science, specializing in air quality and atmospheric chemistry.
Information about VWU's Earth and Environmental Science Program, housed in our new LEED-Gold Greer Environmental Sciences Center, can be found on VWU's website. For information about VWU's Undergraduate Research Program and Career Development and Internship Program, visit The Lighthouse: Center for Exploration & Discovery.