Student Success Stories
Expanding Boundaries in Amman, Jordan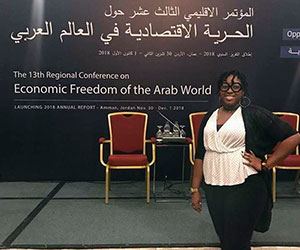 In fall 2018, Selena Chambers '19 (International Studies) landed in Amman, Jordan filled with trepidation. She explained that she was "shaken by fear and anxiety" at the thought of speaking to people, especially in Arabic. But she summoned the courage and "learned to speak up, to network, and to overcome the fear of rejection," she recounted. In sum, study abroad has "made me more confident, excited, and open about life and my academic future."
Chambers studied international relations, Arabic, economics, and the psychology of peace at the School for International Training (SIT) in its Amman Program. One of her most valuable experiences was the internship she had with Envision Consulting Group, a consulting firm that assists businesses, non-profits, and governmental organizations with growth development. Collaborating with Dr. Yusuf Mansur, Jordan's former economic minister and SIT lecturer, Chambers made professional contacts that guided her to the internship. "I conducted real tax policy research that was submitted to the government for consideration. This experience allowed me to see the fruits of the skills that I have been developing in college."
For Chambers, the highlight of the internship was attending the Economic Freedom of the Arab World Conference where she met an Algerian woman who specialized in promoting economic growth and social development through building relationships between governments and small businesses. "This is the work that I have wanted to do for a long time," Chambers exclaimed. "It was encouraging to see someone doing this work, especially at a time when I felt unsure about my own career goals."
Studying abroad in Jordan helped Chambers to refine her professional goals. She has been especially concerned with the "trickle-down effects of international decisions" on economic development, national identity, and peace. She explained that "studying in Jordan helped me develop a broader framework for my desired work in social entrepreneurship." Chambers sees social entrepreneurship as the avenue to address the world's problems holistically. "I believe that we fail to truly solve problems in this world because in some ways we don't want to," she contended. "We solve subproblems, not entire problems. We must go beyond our insecurities, norms, and agendas. We must delve deep into the roots of problems. It is at a problem's roots that we can begin to think about lasting solutions." This is the heart of social entrepreneurship for Chambers.
Craig Wansink, professor of religious studies, has witnessed Chambers' intellectual and professional development first hand. "When I think of the importance of a tiered approach to learning," he stated, "I'm struck by how Selena went with me on a study away course to Israel in Winter Session 2018, and then she studied abroad in Jordan that fall. Having the opportunity to see life from both sides of the Jordan River helped Selena to frame issues in new ways and to be much more nuanced in her approach to global issues."
Chamber's study abroad experience helped her not only to lay out a professional pathway but also to grow personally. "I'm a reserved person," she stated. "But the friendliness of Jordanians made it easy to socialize. People spoke to me almost everywhere I went, and I eventually became comfortable speaking to almost anyone, including influential members of Middle Eastern society." She emphasized, "In Jordan, I stretched my boundaries."
Observing people practicing Islam also had a tremendous impact on Chambers. "There were many times when I was awestruck by the beauty of the Islamic faith. Hearing the daily call to prayer and seeing people pray inspired me to pursue my own faith." Especially moving was her visit to the Sharjah Museum of Islamic Civilization in the United Arab Emirates. This experience, she recalled, "reminded me of the importance of God and how belief in God reorients one's entire life."
Chambers carried what she learned in Jordan back to Virginia Wesleyan. She pointed out that "interacting with people in Amman taught me to see my education as something real and to put forth effort to make it interesting. I was reminded that I am not getting a degree just to say I learned things. I am getting a degree to change my behavior and the world." Collaborating with Virginia Wesleyan's Center for the Study of Religious Freedom this past spring, Chambers worked to bring her "education to life through practice. I studied mediating religious conflict and practiced mediation skills in my sorority. I also studied Buddhist philosophy and practiced meditation. This helped me to appreciate what I was learning and to remain engaged." Chambers stressed that after Jordan, "my education is alive."
When asked what advice she would share with other students who want to study abroad, Chambers emphasized the importance of seizing every moment. "Not every day is going to be fun. You may not get what you want out of every experience. However, there is something worthwhile in every experience. While it is important to prepare, it is also important to be open to changing your plans -- to willingly experience growing pains and learn from your peers, your environment, and yourself. Studying abroad is more than academic learning, it is more than being internally transformed, and it is more than becoming culturally competent. It is all these things at once and so much more if you allow it to be."
Information about VWU's international studies major can be found on VWU's website. For information about VWU's Study Away Program, visit The Lighthouse: Center for Exploration & Discovery.