Student Success Stories
Finding New Passions Through Volunteerism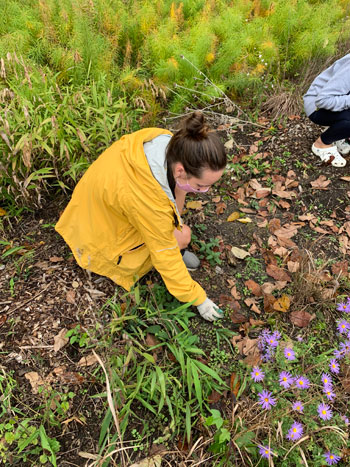 Emily Petsko '23 did not enter into engagement opportunities seeking career focus. Instead, the Earth and Environmental Sciences major found that volunteering reminded her that she did not want to "live a life of selfishness." However, through experiences offered through the office of Wesleyan Engaged: Civic Engagement and Service Learning in The Lighthouse, she has discovered a new passion and career prospect.

"The environment has always been something that I am conscious about. If I can do small things, like recycling old materials that would otherwise be thrown away into toys for dogs waiting to be adopted, I will be happy. Also, gardening with Norfolk Botanical Garden provided me with an opportunity to work with plants. I found that I have a passion for plants, and I am currently considering building a career from that."

Emily is an active volunteer with Norfolk Botanical Garden and works in the gardens surrounding the Greer Environmental Sciences Center. Additionally, she organized a donation drive for the Virginia Beach SPCA and set up a study break day during finals week where VWU students could assist in making dog and cat toys.

"The sense of accomplishment and community I felt while making the dog toys with the different people that participated was very memorable. I was so happy to create a program that could recycle old materials and, at the same time, create a sense of community among my peers and the SPCA."

Emily has a message for you: I would advise other students to get involved in activities and volunteering that interests them. If they do not know what interests them, volunteering is also a great way to explore and develop new interests. Volunteering provides opportunities to get to know the 'real world' while also having fun!