Student Success Stories
Green Chemistry at VWU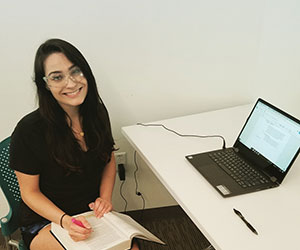 In summer 2018, Cassandra Caldwell '19 (Chemistry) conducted Green Chemistry research under the mentorship of Dr. Kevin Kittredge using Virginia Wesleyan's new microwave reactor in our new Greer Environmental Sciences Center.
Kittredge explains that the project "involves making catalysts that will have a minimal impact on the environment. This is one of the principles of Green Chemistry. Green Chemistry is the design of chemical products and processes that reduce or eliminate the use or generation of hazardous substances. Our research focuses on creating a stable platform to attach a metal catalyst. We developed a method to use cornstarch as a scaffold and then embed a catalyst. This significantly reduces chemical waste and undesirable by-products."
For Caldwell, the most memorable moment of the research came when they "got the polymer recipe correct after much trial and error. It was truly exciting. It was an a-ha moment."
Caldwell emphasizes that she discovered a lot about research and herself by conducting this research. "I learned that my intrinsic love of learning applies to research, even in the face of failure." She also learned that successful research does not always follow a prescribed plan. "I learned that I can be adaptable and apply creativity to scientific goals." Finally, she learned that the skills and knowledge honed while doing research can be readily applied to her future career. "Critical thinking, problem-solving, literature work, and writing are all part of being a successful scientist."
Faculty mentoring is pivotal to student research at Virginia Wesleyan. As students undertake their own research projects, they work closely with faculty. Kittredge explains mentorship from a faculty perspective. "I enjoy mentoring students. Knowing that I can be a part of students' education is satisfying. It also exposes our students to types of chemical research that they normally would not be aware of and can contribute to the greater chemistry field."
To undertake this research, Caldwell received funding from both the Virginia Foundation for Independent Colleges (VFIC) and The Lighthouse's Summer High Impact Practice Program (SHIPP).
When asked what advice she would give to other students who want to undertake research, Caldwell responded, "If you have curiosity about research, talk with one of your favorite professors to brainstorm ideas. Always apply for funding!"