Undergraduate Research
Applications for research support and conference travel are accepted on a rotating basis
Research — It's not just for graduate students!
At Virginia Wesleyan University, students engage in research! Every year 45% of our seniors undertake the challenging task of producing original research. Student researchers are active collecting samples, visiting archives, conducting surveys and experiments, pouring over texts, running code, and writing. They emerge from this quest not only with papers, posters, and presentations, but also with new knowledge and a deeper understanding of their fields.
At Virginia Wesleyan University, students from all across the disciplines engage in independent research. From Criminal Justice to Classical Studies, most academic departments provide research opportunities. Majors such as Biology, English, History, Political Science, and Psychology require students to conduct research as the capstone experience of the program. In addition, students aiming to graduate summa cum laude complete research projects as part of the Latin Honors requirement. All along the way, student-researchers are supported and guided by dedicated faculty mentors.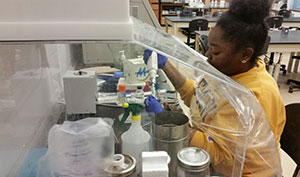 Upcoming Events