Arts Scholarship Auditions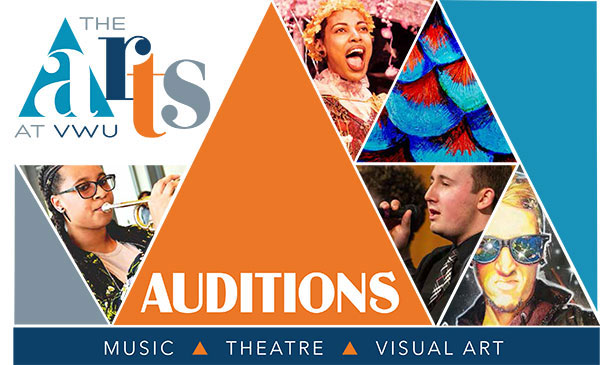 Your arts audition is an opportunity to meet with faculty members in your areas of interest, show off your talent as an artist, and learn about how you can be involved in the arts as part of your Virginia Wesleyan experience. These auditions allow you to make sure you hit the ground running when you arrive at Virginia Wesleyan.
In addition, your audition will allow you to be considered for arts-specific scholarships at Virginia Wesleyan.
Auditions can be completed during regular Marlins Days, virtually, or in-person by appointment. 
Fill out the form at the link below, tell us about your interests, and whether you prefer an in-person or virtual audition. A faculty member will connect with you to schedule your audition.
Take a campus tour and earn a $1,000 Visit Grant!
---
Audition Expectations
Music
Music Major
You will need to perform two contrasting pieces that represent your skill and experience with your instrument. If you are a vocalist, you are encouraged to have one of those pieces in a foreign language. Your audition as a Music Major will also include your audition for Choral or Instrumental Ensembles.
Choirs
You will need to sing a traditional folk song or hymn of your choosing, a capella. You could consider Amazing Grace  or My Country Tis of Thee as viable options. You will also be asked to sing some basic warm-ups, and aural skills exercises.
Instrumental Ensembles
You will be asked to perform a piece on your instrument that demonstrates the style and genre that you are most interested in performing. The piece should be between 2-4 minutes in length and should not need accompaniment.
Theatre
This is your chance to show-off. You will perform two contrasting pieces that represent your artistry, preparation, and performance skills. The total amount of time for your performance should be approximately 5 minutes. These pieces should be memorized to the best of your ability. They could be a piece you've performed in a play, musical, or contest. If you sing or dance, you can choose to perform a musical theatre selection for one of the pieces. (you will need to provide accompaniment for your singing). This will also give us a chance to discuss your performance and the program. If you have experience in technical theatre or entertainment design technology (lighting, scenic, props, sound, projections, and filmmaking) you will be asked to show examples of your work.
Digital Music or Technical Theatre and Production
You will be asked to submit a portfolio with 3 - 6 samples of your best work. Include sample recordings, photographs, and sketches as appropriate. Include a brief description of each sample that gives useful context and your intent with the work. You will be invited to have an interview with a faculty member about your experience and goals while at Virginia Wesleyan. 
Visual Art
You will be asked to submit a portfolio of 6 to 10 works of art that represent you best. The works should be original and highlight any representational skills you possess. Works can include a variety of media, or all be concentrated in a single medium. The portfolio you submit will be in the form of 6 to 10 individual image slides in a Google Slide presentation. Each slide must be labeled at the bottom of the slide with the artist's name, artwork title, media, and size. 
Art faculty will conduct interviews with students who have submitted portfolios. In this interview you will have the opportunity to discuss your artworks, goals, and ask questions regarding the visual arts at Virginia Wesleyan University.