Exploring Sustainability in Alaska
Students in Summer Session Environmental Studies course travel north to study climate change and more
Featured News | June 14, 2017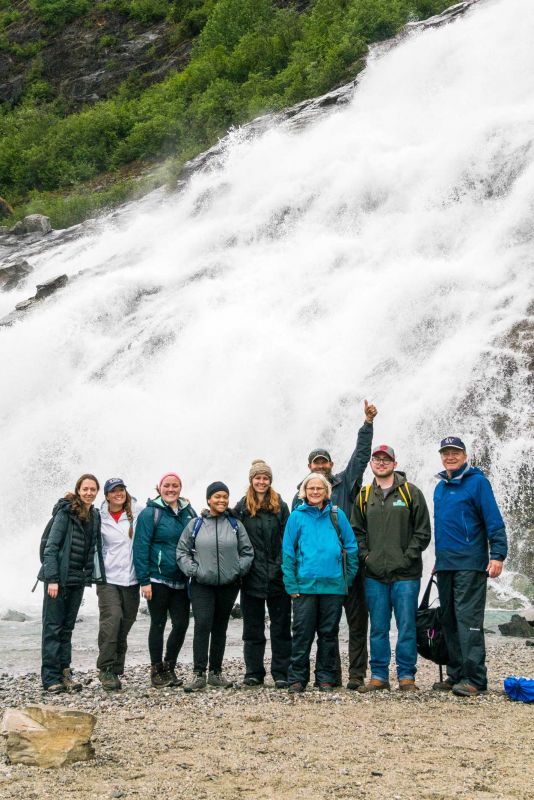 As the summer heat was building in Coastal Virginia, a group of VWU students kept cool while getting a firsthand look at serious environmental challenges in Alaska. The students are enrolled in a Summer Session Environmental Studies course called "Seminar in Alaska: Sustainability," taught by Elizabeth Malcolm, Professor of Ocean and Atmospheric Sciences, and Larry Hultgren, Professor of Philosophy and Director of the PORTfolio Program at Virginia Wesleyan.
The course utilizes the natural laboratory of Southeast Alaska and collaborations with local experts and native elders to provide opportunities for students to gain real-world experience with environmental issues. Emphasis is placed on understanding the complexity of environmental issues and the interdisciplinary nature of the search for appropriate solutions.
Students Montana Bieder '17, Austin Edmonds '20, Amanda Gerni '19, Quennita Lensey '18 and Valerie Wilburn '17, embarked on the 11-day trip in early June. The trip included an outing to the famed Mendenhall Glacier outside of Juneau, and overnight camping and rafting along with scientific observation and study.
They studied the natural and human environment including climate change, glaciers and glaciation, geology, ecology, sustainability and the native Tlingit culture.
"It was eye opening," says student Montana Bieder after observing how much the Mendenhall Glacier has melted. "This experience is the reason I wanted to take this course."
Student Amanda Gerni is working on a research project on the effort by some residents and native Alaskans to protect the Chilkat River with "Tier 3" protection, a statewide designation designed to preserve "Outstanding National Resource Water."
"Being able to talk to native people about water quality issues is an amazing learning tool," says Gerni. "I'm more excited about my major now. It's cool to see how passionate people are about the environment since it directly affects them."
The students' local instructor was Virginia Wesleyan alumnus Scott Ramsey '90, who recently founded the Alaska Outdoor Science School and has enjoyed a career that is a testimony to the liberal arts tradition of Virginia Wesleyan. Scott's father, Neil Ramsey, was a sociology professor at Virginia Wesleyan for many years.
"It's a dream for me to give back to Virginia Wesleyan and continue its learning traditions," says Scott Ramsey, who majored in business at VWC, went on to get his masters in environmental sociology and is currently pursuing a PhD in sustainability education.
Summer Session 2017 runs from May 23-August 23 at Virginia Wesleyan and offers a variety of benefits and special opportunities for VWU and other college students, whether they want to explore new topics and travel to exciting destinations, participate in independent research with a faculty member, or simply catch up on course work. Summer tuition is affordable and room and board are available. Find out more about Summer Session.
ENVS 283 is part of Virginia Wesleyan University's inaugural Summer High Impact Practice Program (SHIPP). SHIPP is a competitive program that offers opportunities to Virginia Wesleyan students to undertake internship, study away, and research experiences during the summer. A signature program of the University's Quality Enhancement Plan, SHIPP offers tuition at a reduced rate and substantial grants to offset the cost of interning, studying away, or researching. All of the ENVS 283 students received a SHIPP grant. In addition, most of them also received a Study Away Course Grant. SHIPP and the Study Away Course grants are administered by The Lighthouse: The Center for Exploration & Discovery.