VWU History Students Recognized for Research
Students awarded at annual Phi Alpha Theta conference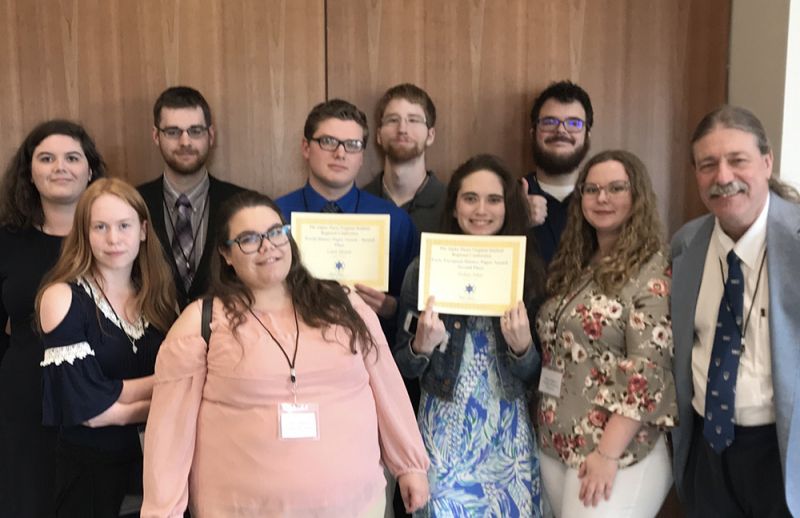 University News | May 8, 2019
By Sara Sewell
Virginia's chapter of Phi Alpha Theta, the national history honor society, honored two VWU students with awards for their research at its annual conference on March 30 in Lynchburg.
Sydnie Allen won second prize in the European history category for her paper "The Rise of the Tudors: Revenue Management During the Reign of King Henry VII," and Caleb Mercer placed second in the world history category for his research "From Peace to Rearmament: Fitting Post-War Japan in an American System 1945-52."
Phi Alpha Theta has had a long tradition of hosting an annual regional conference to enable students to present their research. VWU Professor of History Dr. Clayton Drees, the current national president of Phi Alpha Theta, pointed out that "this annual conference allows our students to present their work at a large, multi-school gathering and to compete with other history students from Virginia and North Carolina. Because VWU competed against much larger institutions like James Madison University and East Carolina University, our Phi Alpha Thetans proved this year that they are capable of doing some of the best historical scholarship in the Mid-Atlantic region!" Over the years, Virginia Wesleyan history students have consistently earned awards at the conference.
Mercer explained the critical benefits of presenting research off campus: "The Phi Alpha Theta State Conference brings students with similar interests together, and this leads to greater inquiry and thoughtful questions." Allen stressed that the "friendly environment" of the PAT conference helped her "to feel more confident in presenting my work. Other scholars commented on my presentation in a positive way and gave me feedback which helped me improve as a scholar."
At Virginia Wesleyan, student research is supported by the University's Undergraduate Research Program. For nearly two decades, VWU has committed to student research across the disciplines through close faculty mentoring, instruction, research grants, and conference grants. For more information about VWU's experiential learning opportunities, visit The Lighthouse: Center for Exploration and Discovery.