Senior Vice President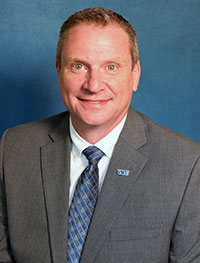 Dr. Keith Moore is a strong advocate for students from all backgrounds. His energetic and visionary leadership is invaluable as we strengthen our commitment to engaged student learning and success.
Keith most recently served as Virginia Wesleyan's vice president for campus life and operational management . He came to the University in 1999 as the assistant director of residence life and director of intramural sports and has held additional roles as director of residence life, coach of the men's and women's cross country teams, dean of students, and vice president for student affairs.
A Boston native, he has also held positions in new student orientation and housing and residence life at University of Massachusetts at Amherst. He has served as president of the Virginia Association of Student Personnel Administrators..
Keith holds an Ed.D. in higher education leadership from Nova Southeastern University. He earned an M.Ed. in educational policy and administration from University of Massachusetts at Amherst and a B.A. in politics and history from Curry College.
He is married to the former Meredith Ann Martin, a school psychologist with Chesapeake Public Schools. They reside in Virginia Beach with their daughter, Jacqueline Rose.