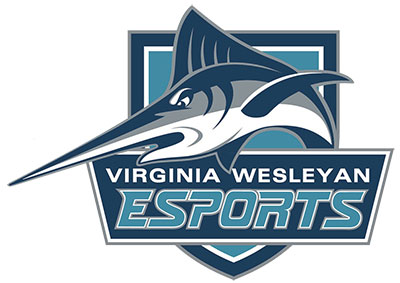 Get your game on... Virginia Wesleyan University's co-ed club esports program offers students the chance to participate in video game competitions at the collegiate level. VWU is a member of the National Association of Collegiate Esports (NACE).
---
Program and Facilities
VWU esports is staffed by Program Director/Coach Glenn Johnson. The Marlin Esports Arena in the Jane P. Batten Student Center is equipped with 17 high-end gaming PCs featuring ASUS Prime Z390-P motherboards, Intel 9th Gen i7 processors, 16GB ADATA Gammix RAM, MSI GeForce RTX 2070 Armor GPUs, and MSI Optix 24-inch gaming monitors.
---
Teams
Teams are comprised of 3-6 members, depending on the game. Students are invited to play based on interest and tryouts are held.
Why Esports?
Today's fastest growing global sport and a billion-dollar industry, esports is quickly expanding to college campuses across the country. Esports opens up pathways for countless careers—it's not just being a player or a game designer, it's everything in between, including marketing, media and communication, business management, coaching, creative writing and storytelling, and more.