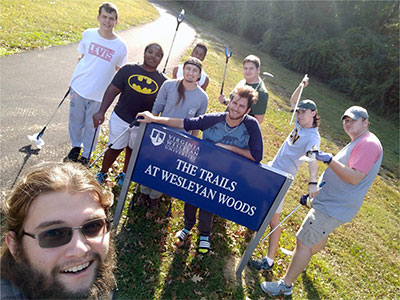 VWU has a strong tradition of environmentalism and engagement.  One of the major areas where these two traditions merge is with Campus Clean-Ups.  Wesleyan Engaged, and student groups, host Campus Clean-Ups on various days throughout the year.  VWU students clean not only the areas around the buildings but also the Trails at Wesleyan Woods.  If students go into the surrounding community, Wesleyan Engaged has safety vests for students to check-out and use. 
To aid students and organizations with campus clean-ups, Wesleyan Engaged has trash grabbers that can be checked out, along with trash bags and gloves.  To check-out the grabbers, please fill out the Trash Grabber Reservation Form.  Reservations are on a first-come, first-serve basis so reservations are encouraged to be done as early as possible so that the Campus Clean-Up event can be held.
For more information, please reach out to Wesleyan Engaged by stopping by the office (Clarke 115), emailing us (wesleyanengaged@vwu.edu), or calling us at 757-455-3216.