Oyster Bagging with the Chesapeake Bay Foundation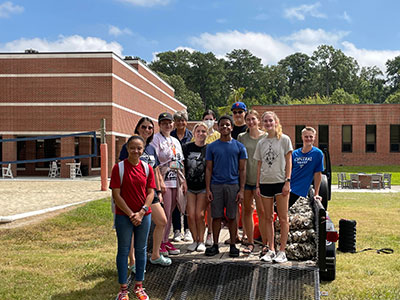 Wesleyan Engaged hosts the Chesapeake Bay Foundation each semester for students, faculty and staff to put together bags of recycled oyster shells. These shells will be used at the Brock Environmental Center to provide homes to hundreds of thousands of baby oysters. These oysters will be placed back into the Chesapeake Bay and filter multi million gallons of water a day. Learn more about the Chesapeake Bay Foundation.
---
Planting & Weeding at the Norfolk Botanical Garden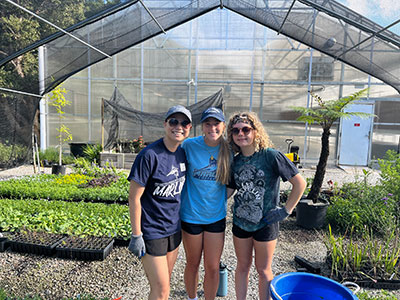 Each semester, students volunteer with the horticulture department at the Norfolk Botanical Garden by pruning plants to facilitate growth for the next season. Learn more about Norfolk Botanical Garden.
---
Marlins Read


Marlins Read is a student-led, one-on-one mentoring program aimed at helping elementary age students reach their literary proficiencies. The program is hosted for an hour a week in the fall and spring semesters. Established at Diamond Springs Elementary School in 2009, the award-winning program is now offered also at Bettie F. Williams, Shelton Park, and Bayside Elementary Schools.
---
Blood Drives with the Red Cross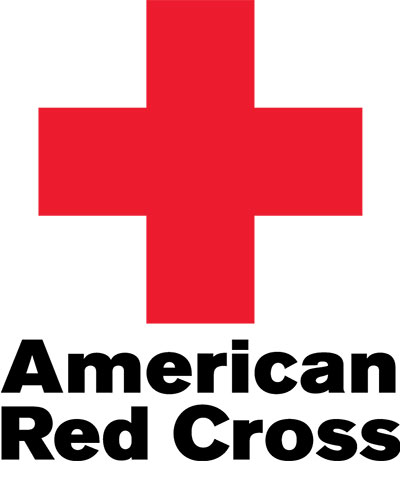 Wesleyan Engaged hosts a total of four blood drives throughout the academic year in partnership with the Red Cross. Blood donations may be used for patients in need of surgery, cancer treatment and transfusions for blood loss from traumatic injuries. During the academic year 2022-2023, we had a total of 115 donors, which equated to 327 potential lives saved from the blood donated. Learn more about the Red Cross.
---
TREX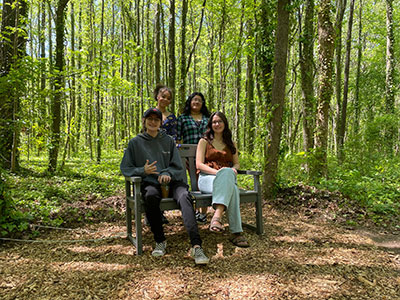 NexTrex is a company that manufacturers wood-alternative composite decking, railing, and other outdoor items made from recycled materials. In 2023, VWU was awarded a composite bench from NexTrex for donating 500 pounds of plastic over the course of six months. The bench is located on the Wesleyan Trails between Village 3 & 4. Wesleyan Engaged continues to collect plastic—in fact, we already have another 155 pounds collected.
Trex boxes are located in Clarke Hall, Batten Student Center, Hofheimer Library, and Greer Environmental Sciences Center. We collect soft plastic only.
---
Girls on the Run Hampton Roads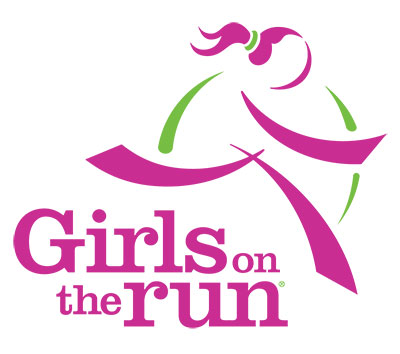 The University is proud to house the offices of Girls on the Run Hampton Roads on our campus, and Wesleyan Engaged is proud to partner with the organization. Last fall we hosted a 5K Packet Stuffing Party to prepare 1,200 5K packets for their celebration event. In the spring we hosted a Girl Pack Assembly Party to prepare 1,100 sport packs for their after-school program participants.
Each year they host their celebratory Spring 2023 5K on campus. This event attracts thousands of supporters and gives program participants of all abilities a tangible sense of accomplishment. GOTR-HR inspires all girls to build confidence and kindness while learning valuable life skills that emphasize the connection between physical and emotional health. Learn more about Girls on the Run Hampton Roads.
---
Socials with the Gardens with Virginia Beach
Students visit the senior residents at The Gardens of Virginia Beach each semester. In the fall, students and residents have a Halloween Bash and decorate Halloween cookies together. In the spring, they decorate Valentine's Day cookies and make tie-dye bags for the residents to attach to their walkers and wheelchairs. Learn more about The Gardens of Virginia Beach.