October 5 Declared as Energy Efficiency Day at VWU
President Miller signs proclamation urging campus commitment to energy conscious practices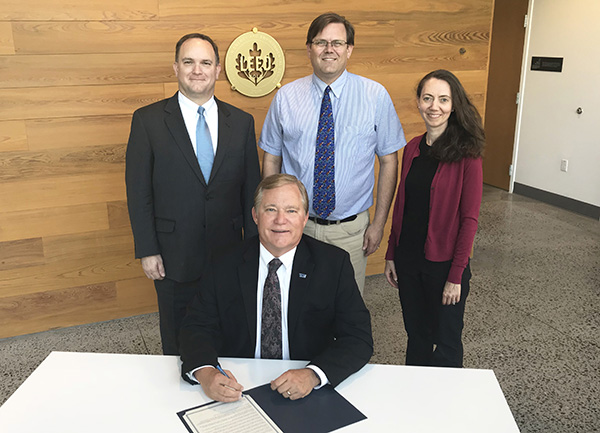 University News | October 2, 2018
President Scott D. Miller has declared October 5 as Energy Efficiency Day at Virginia Wesleyan University. VWU joins dozens of cities, states, companies, and government agencies nationwide in this effort, but is only the second college or university in the country—the first in the Commonwealth—to make this proclamation for 2018.
Dr. Miller signed the formal proclamation October 2 in the Greer Environmental Sciences Center. Also in attendance were Maynard Schaus, Associate Provost, Elizabeth Malcolm, Professor of Ocean and Atmospheric Sciences and Chair of the President's Environmental Issues Council, and Brian Kurisky, Director of Wesleyan Engaged. The charge is led by the Southeast Energy Efficiency Alliance (SEEA) and a national network of nonprofit organizations united in promoting the benefits of energy efficiency.
Energy efficiency—switching to LED light bulbs, sealing air leaks, upgrading appliances, among other updates—is the cheapest, quickest way to meet energy needs, reduce pollution, and cut consumer bills. It is also an economic engine in the U.S., supporting 2.25 million jobs in manufacturing, construction and other fields.
The Virginia Wesleyan University community is dedicated to a greener campus and a greener world and has been recognized locally, regionally and nationally for its sustainability practices:
In addition, VWU President Scott D. Miller serves as chair of The Climate Leadership Network (formerly The American College and University Presidents Climate Commitment) and sits on the board of the prominent national environmental advocacy organization Second Nature. He also leads the President's Environmental Issues Council on campus.
Virginia Wesleyan is also committed to waste-reduction, recycling, energy efficiency, green building practices, composting and other earth-friendly landscaping practices, promotion of public transportation, and much more. Many faculty/student research projects integrate learning and community service for the betterment of the planet. Read more about sustainability at VWU.