VWU Receives 2021 Higher Education Excellence in Diversity Award
The University will be featured in the November 2021 issue of INSIGHT Into Diversity Magazine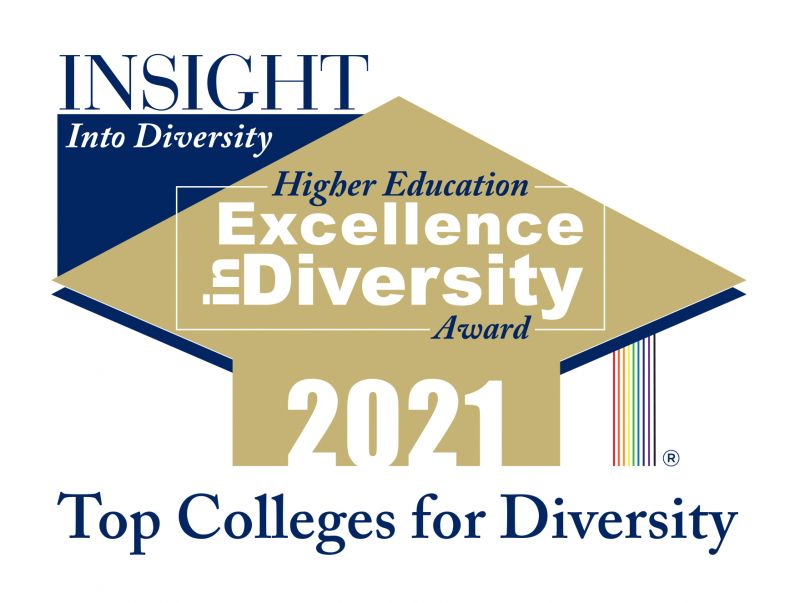 News Release | September 20, 2021
Virginia Wesleyan University has received the 2021 Higher Education Excellence in Diversity (HEED) Award from INSIGHT Into Diversity magazine, the oldest and largest diversity-focused publication in higher education. As a recipient of the annual HEED Award — a national honor recognizing U.S. colleges and universities that demonstrate an outstanding commitment to diversity and inclusion — VWU will be featured, along with 100 other recipients, in the November 2021 issue of INSIGHT Into Diversity.
"We take a detailed approach in deciding who will be named a HEED Award recipient," said Lenore Pearlstein, publisher of INSIGHT Into Diversity magazine. "Our standards are high, and we look for institutions where diversity and inclusion are woven into the work being done every day across their campus."
Pearlstein noted that the HEED Award process consists of a comprehensive and rigorous application that includes questions relating to the recruitment and retention of students and employees — and best practices for both — continued leadership support for diversity, and other aspects of campus diversity and inclusion.
INSIGHT Into Diversity selected Virginia Wesleyan for its numerous initiatives and practices that support diversity and inclusion:
VWU First supports first-generation college students and their parents by providing assistance and resources that help with navigating the new experience of going to college. The program introduces students and families to VWU resources such as the Learning Center, Counseling Services, and the financial aid process. In addition, first-generation students have opportunities to connect with mentors and advisors who can identify with their challenges and support them as they transition to life on the VWU campus.
VWU's Work and Learn Program is dedicated to providing students with meaningful work opportunities on campus. Through the program's components — Campus Cooperative, Community Cooperative, Federal Work-Study, Opus, and Residential Leadership — Students can develop new skills and receive financial support to help finance their education, while becoming more engaged with the Virginia Wesleyan community and better acclimated to college life.
Virginia Wesleyan University's WesBridge program serves as a bridge between high school and college and helps students to jump-start their college education by earning credits even before their first semester has started, ensuring that the transition to college is as seamless as possible.
The Robert Nusbaum Center of VWU and other clubs and organizations on campus offer workshops on subjects like "unconscious bias" to stimulate dialogue and increase understanding on the most contentious and polarizing topics in American civic life; topics such as religion, politics, race, gender, and sexuality. In addition, a wide variety of student organizations, like the Black Student Union, Spectrum, and Phenomenal Women reflect the needs and desires of the student body and provide connections and inclusivity, maximizing the student experience on the VWU campus.
VWU's President's Council for Inclusive Communities works to foster an environment where everyone feels welcome and valued. The Council focuses on identifying and ending racism in the campus community, ensuring that everyone has a voice and equitable participation. It serves to educate the VWU community about challenges faced by many on campus and strives to remove barriers to full participation faced by historically disenfranchised groups.
"Building a campus culture of diversity and inclusion has been a major focus at Virginia Wesleyan," said Executive Director for Civic Engagement and Service Learning and Chief Diversity Officer Brian Kurisky. "We are proud to be recognized for how we have woven diversity initiatives throughout our campus. From recruitment to campus life, we've worked to ensure that VWU attends to creating inclusive and safe spaces and opportunities for first-generation students, historically underrepresented students and students with disabilities so that all students can thrive here."
Read more about Building a Campus Culture of Diversity and Inclusion at VWU.
For more information about the 2021 HEED Award, visit insightintodiversity.com.