Dr. Benjamin Dobrin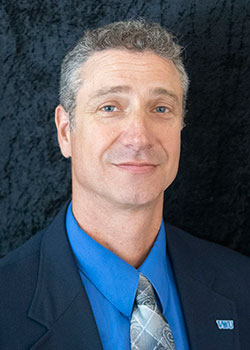 Dr. Benjamin Dobrin is Dean of the D. Henry Watts School of Professional Studies at Virginia Wesleyan University. He is also a professor and the chair of the Department of Social Work.

Dr. Dobrin holds a Ph.D. in Public Health from the University of South Florida College of Public Health and a Master of Social Work from the University of Pennsylvania. He received his undergraduate degree in sociology/psychology from the College of William and Mary.

Dr. Dobrin's early research focused on male caregiving issues and Alzheimer's Disease—an intersection of social work and public health. He has also done work in fitness and nutrition with a focus on the aging population, and further researched smoking behaviors in Armenia. More recently, his civic engagement as a volunteer police officer has informed his scholarly work in the area of stress and trauma in law enforcement, with a concentration on volunteer law enforcement officers.

Dr. Dobrin is extremely active in the community and dedicates many hours of his time to community safety. He volunteers with the Virginia Beach Emergency Medical Services Marine Rescue Team as an instructor and operator in public safety diving, rescue swimming, and rescue boat operations. He is also a volunteer police officer with the Chesapeake Police Department, where he is a diver and instructor on the police dive team and an operator and instructor on the police boat unit.