George Y. and Sue Birdsong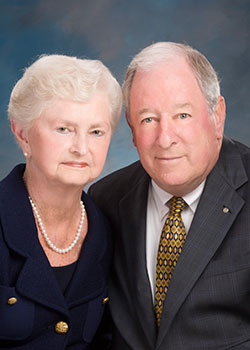 George Y. and Sue Birdsong, the Birdsong family, and the Birdsong Corporation are business and philanthropic leaders in the Coastal Virginia region and beyond.
George Birdsong is the CEO and General Counsel for the Birdsong Corporation, the largest peanut sheller in the U.S., based in Suffolk, Virginia. He earned a Bachelor of Arts from Washington and Lee University, a law degree from the University of Virginia, attended the University of Virginia for Basic Advancement Management, and practiced law with Godwin & Godwin Law Firm.
Mr. Birdsong joined the Virginia Wesleyan University Board of Trustees in 1989, was Board Chair from 2007-2010, and now serves as Trustee Emeritus. In 2016, he was awarded an honorary Doctor of Laws degree on behalf of the University. He is involved in many other civic organizations, including the Obici Healthcare Foundation, Suffolk Foundation, United Way, YMCA, and Nansemond-Suffolk Academy. He is active in numerous regional and state organizations such as the Virginia Foundation for Independent Colleges, Chesapeake Bay Foundation, Nansemond River Preservation Alliance, and Hampton Roads Business Roundtable. He has received a multitude of awards including a Humanitarian Award from the Tidewater Chapter of the National Conference of Christians and Jews, the ODK National Leadership Society Award and the Paul D. Camp Community College Chancellor's Award for Leadership in Philanthropy. He was recognized with a Lifetime Achievement Award for initiating and serving as the first chairman of the Suffolk Redevelopment and Housing Authority. In 2015, he received the Lenora Mathews Lifetime Achievement Award from VOLUNTEER Hampton Roads.
Sue Birdsong attended Longwood College and earned her degree from Pan-American Business School in Richmond. She worked for Mills Godwin in his law office and while he served as Lt. Governor and Speaker Pro-Tem of the Senate for the State of Virginia. She also served for 10 years on the Board of Nansemond-Suffolk Academy.
Mrs. Birdsong currently serves on the Westminster-Canterbury Foundation Board and, with her husband, made possible the Birdsong Initiative, a 24-week study examining the positive impact of bedside computers among dementia patients. The award-winning study was conducted in 2015 by researchers at Eastern Virginia Medical School with support from students in Virginia Wesleyan's Recreational Therapy program. In 2016, the Birdsong Initiative received the Excellence in Research and Education Award from LeadingAge, a Washington, D.C.-based association representing non-profit aging services organizations throughout the U.S.
The Birdsong Corporation and the Birdsong family have been generous supporters of Virginia Wesleyan throughout the University's history. Birdsong Hall, an original building in Village I, was dedicated to the Birdsong Family in 1968. A plaque in the building recognizes the family as dedicated Methodists whose generosity helped establish the College. Birdsong Peanuts and the Birdsongs made a number of significant gifts throughout the University's history. The Birdsong Community Services Endowment Fund was established in 1995 to provide support for Virginia Wesleyan's acclaimed community services program. They also established the Birdsong Corporation/George and Sue Birdsong Endowed Scholarship that provides assistance to deserving students. Most recently, their generous commitment to Birdsong Field, VWU's new multi-purpose outdoor synthetic turf athletic field, enabled the University to dedicate this greatly needed facility in fall 2015 in honor of the Birdsong Family.
Mr. and Mrs. Birdsong trace their connections with the University back to the groundbreaking for Village I on July 18, 1965. Governor Mills E. Godwin, Jr., and Sue's father, Major T. Benton, who was Mayor of Suffolk, were also in attendance. George's Uncle, Harvard R. Birdsong, was a key participant at the groundbreaking and a charter member of the Virginia Wesleyan University Board of Trustees.
George and Sue Birdsong have three children and eight grandchildren.