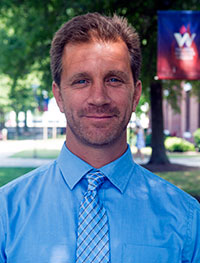 William J. McConnell
Associate Professor of Education
Director of Teacher Education
---
Degrees Held
Ph.D., Old Dominion University
M.Ed., Old Dominion University
B.S., Old Dominion University
Office Location: 104 Pruden Hall, Bray Village
Phone: 757-455-3403
Email: wmcconnell@vwu.edu
Department/s:
- Education

Dr. Bill McConnell received a Masters in Early Childhood Education and a Ph.D. in Curriculum and Instruction from Old Dominion University with a concentration in environmental science education. During his 20 years teaching in the public schools, he was awarded Teacher of the Year at two schools and received the overall Chesapeake City Teacher of the Year award in 2009. While at Virginia Wesleyan he has been honored with the Samuel Nelson Gray Distinguished Teaching award and received the Virginia Association of Colleges of Teacher Education Inspirational Educator Award in both 2018 and 2019. Since arriving at VWU, Dr. McConnell has served as Principal Investigator or Co-Principal Investigator on six grant funded projects totaling over $100,000. Some of the collaborative and innovative programs he has led at VWU include the Downstream Collaborative Project, Environmental Explorers, and the Virginia Wesleyan Environmental Institute; the latter receiving national recognition through the 2020 Inspiring Programs in STEM Award. His research interests span the teaching and learning of STEM in varied contexts. He presents and publishes his work through regional, national, and international venues and is an active member of several professional organizations. Select publications and presentations are provided below.
McConnell, W., Howard, M., & Catania, K. (2020). The downstream collaborative project. Science and Children. 57(8), 59-65.
Gumpert, M., & McConnell, W. (2019). An examination of the argumentation abilities of secondary students with disabilities using socioscientific issues. Journal of Virginia Science Education, 12(2), 10-17.
Gumpert, M. & McConnell, W. (2019). Different strokes for different folks. Science and Children.
McConnell, W. & Dickerson, D. (2017). Constructing argument with 3D printed models. Science and Children, 54(5), 29-37.
Dickerson, D. L., Cantu, D. V., Hathcock, S. J., McConnell, W. J., & Levin, D. R. (2016). Instrumental STEM (iSTEM): An Integrated STEM Instructional Model. In Connecting Science and Engineering Education Practices in Meaningful Ways (pp. 139-168). Springer International Publishing.
Burgin, S., McConnell, W. & Flowers, A., (2015). "I actually contributed to their research." The influence of an abbreviated summer apprenticeship program in science and engineering for diverse high school learners. International Journal of Science Education 37(3), 411-455.
Dickerson, D.L., Stewart, C.O., Hathcock, S., & McConnell, W. (2014). The nature and role of science kits in affecting change in public understanding of science. In L. Hin & R. Subramaniam (Eds.), (pp. 47-62). Communicating Science to the Public: Opportunities and Challenges for the Asia-Pacific Region. Netherlands: Springer.
McConnell, W. &Dickerson, D., (2014). Protecting our community: A real-world integrative STEM lesson provides opportunity for cross-subject teacher collaboration. Technology and Engineering Teacher, 73(8), 24-29. (invited article)
McConnell, W. & Dickerson, D., (2013). Making connections between the digital and physical worlds. Science & Children. 51(4), 38-43.