Christopher L. Dotolo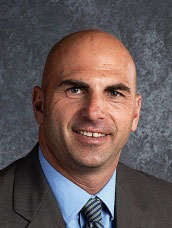 Christopher L. Dotolo is 1991 graduate of Virginia Wesleyan University with a degree in history and a 1997 graduate of George Mason University with a M.A. in sports administration.  After graduating VWU, he became the second Marlin baseball player to play professional baseball, signing a contract with the San Francisco Giants. He played four years in their minor league system and then continued his baseball career coaching at the college level, first as an assistant coach at Dartmouth College (1995-1999) and St. John's University (1999- 2001), and then as the Head Baseball Coach at Hofstra University (2001-2008). With Norfolk Academy roots, he moved back to Virginia Beach to take the position of Director of Annual Giving and Head Baseball Coach at Norfolk Academy in June 2008. He is married to Lilly (Everett) Dotolo, a 1990 graduate of VWU. He and Lilly have three beautiful daughters: Gina, Savanna and Maria.
What are some of your favorite memories of professors, mentors or friends at VWU?
I had many wonderful memories at Virginia Wesleyan, but my experience playing baseball was my most memorable one. I valued my time with my teammates and coaches and am thankful to have had the opportunity to represent VWU in athletic competition. My athletic experience at VWU taught me that having success wasn't just about winning and losing. I learned that hard work, dedication, commitment, accountability, and the ability to overcome obstacles are necessary ingredients for success in life.
How do you describe the Virginia Wesleyan experience to friends and colleagues? 
Down to earth and genuine. After having gone to VCU for two years and getting lost in the crowd of a large university, I found the small college environment to be better suited for me academically, athletically and socially. I spent three years at VWU and I loved the small class sizes, the academic opportunities, the accessibility of the professors, and the comfort in knowing that I was part of a family. One of the things I loved most about VWU was that I got to know so many people, and I loved riding my bike through campus and saying 'hi' to those people each day on my way to class. It was also reassuring walking into a classroom and seeing familiar faces at the start of each semester and knowing that the professors cared about you. My experience at VWU was a great one and I only wish I had made the decision to go to VWU directly from high school so I could have enjoyed my entire college experience there.
Share your thoughts about one or more of the following: the value of a liberal arts education, the "small college difference," unique opportunities you had at VWU (internships, community service, study abroad, etc.).
The liberal arts aspect was important for me. I was unsure of what my area of academic interest was prior to VWU. I had always been fascinated with history, and at VWU I was able to pursue that interest and ultimately earn a degree in history. The amazing group of professors had a vested interest in the students, and I would not have enjoyed my classes if it weren't for their enthusiasm and passion for teaching.
Anything else about your time at VWU you would like to share?
VWU enabled me to develop and mature as a student, athlete, and person and it has been an honor serving on the VWU Alumni Board the last few years. As the new President of the Alumni Board, I am looking forward to continuing to help the college reach out to our alumni and get as many of them involved in the life of the school as possible.
VWU has grown tremendously since I graduated in 1991. A school is only as good as its leadership and VWU has outstanding leadership from President Greer. The Communications, Admissions, and Advancement offices are staffed with exceptional individuals who are constantly working to keep the college on the cutting edge of technology, market the school, and raise money so that VWU can become one of the best small private school educations in the country.