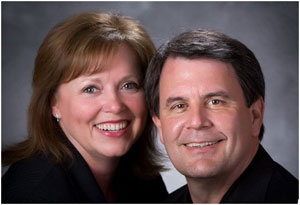 In a May 1994 article called "When Candie Met Wally" that appeared in the Virginian-Pilot and Ledger-Star, Candie Driskell wrote that taking classes at VWU at the same time as her husband was "almost like dating again…all married couples should attend college together."
The article was a promotion for the College's Adult Studies Program. Both graduates of Virginia Wesleyan's Liberal Arts Management Program, Candie and Wally have been married 26 years and share 10 grandchildren as well as a passion for family, church, travel and their "getaway on the OBX ."
Wally is Captain and Commanding Officer, First Patrol Division, Norfolk Police Department. His division encompasses much of the VWU campus. He is a graduate of FBI National Academy and an adjunct professor in the Criminal Justice Program at Tidewater Community College (Norfolk campus)
Candie went on to get her masters degree in Community Health from Old Dominion University and has served as Executive Director of Access Partnership since April 2005. Prior to joining Access Partnership, she held positions as Manager of the Appeals Department at Optima Health, Case Manager at Sentara Norfolk General Hospital and Emergency Department Nurse at Sentara Leigh Hospital. She has also taught Emergency Medical Technology at Tidewater Community College and serves as a Community Health Educator.
Below are Candie's responses to a question-and-answer about her experience at Virginia Wesleyan.

How did your time at Virginia Wesleyan University shape the person you are today?
It sparked my love of learning and teaching!

What are some of your favorite memories of professors, mentors or friends at VWU?
Dr. Bob Albertson's class required a lot of study time, so a handful of students started a study group. The meetings began on campus but eventually moved to our homes where they quickly turned into socials. I am still friends with Catherine Hampton, a study partner. I still have videos of the January term at False Cape State Park. We remain friends with Dot Hinman, Dave Garraty and Bob Albertson.

How do you describe the Virginia Wesleyan experience to friends and colleagues?
It was one of the best experiences of my life. Although it took seven years to complete the program going part-time, I enjoyed every minute of my time there.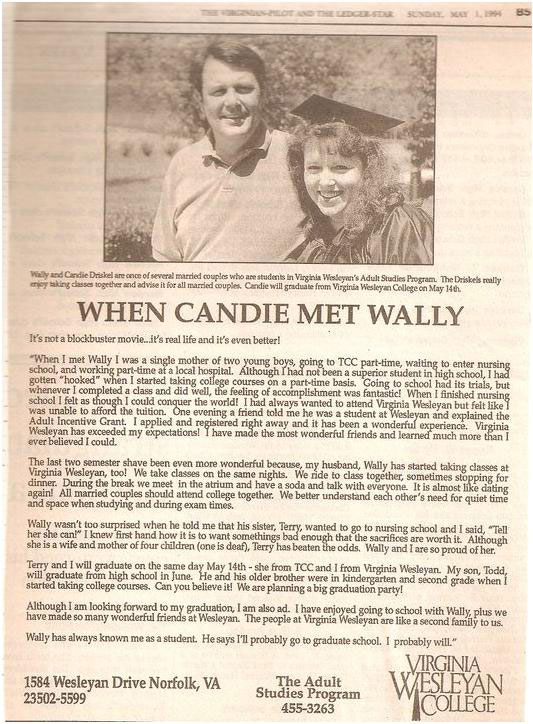 Share your thoughts about one or more of the following: the value of a liberal arts education, the "small college difference," unique opportunities you had at VWU (internships, community service, study abroad, etc.).
I am grateful for my LAMP degree. I learned more than I would have focusing on one subject area. I went to museums to study art, attended the symphony with my husband, studied aquatic life at False Cape and met some of the most warm, intelligent and all-around wonderful people on earth!
During my capstone, I was assigned to read Lee Iacoca's autobiography in which he recommended a liberal arts education. In searching for this on the internet recently , I came across a blog called "Eastern Philosophy and Meditation," which expanded on this idea:
'Make yourself familiar with the great works of literature, with the thoughts of the great thinkers and philosophers and mystics and leaders of humanity. Education should be a preparation for life and not just gaining skills that will help you get and hold on to a job. Those skills can be learned afterwards.'

Anything else about your time at VWU you would like to share?
We recommend the college and the Adult Studies program to everyone.