Gary Edwards '79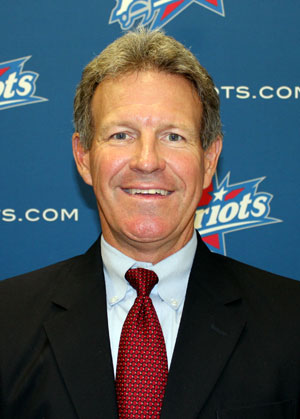 Gary Edwards recently completed his sixth season at the helm of the Francis Marion University men's basketball program and his 28th year as a college head coach. His career coaching mark stands at 476-336 in 28 seasons, including a 7-4 mark in NCAA Tournament games and an 8-1 mark when playing for a conference or regional championship.
Edwards, 54, took over the reins of the Francis Marion University men's basketball program on April 26, 2006, and became the sixth head coach in the program's 42-year history. His six-year mark on the Patriot bench is 87-80. He improved the Patriots' win total in each of his first four seasons in Florence and has guided FMU to four consecutive winning campaigns—a first since 1989-1993 and one shy of the school-record of five consecutive winning seasons.
Edwards came to Francis Marion after 10 seasons as head coach at NCAA Division II Indiana University of Pennsylvania. He guided the Indians to a 206-88 mark, including five 20-win campaigns, three Pennsylvania State Athletic Conference titles, and four trips to the Division II national tournament. Under his guidance, IUP advanced to the Elite Eight twice (2000 and 2002) and participated in the 2002 Final Four.  He left IUP as the winningest coach in that program's long history.
Edwards returned to South Carolina, where he still ranks as the winningest coach at Division I Charleston Southern University. In nine seasons, he guided the Buccaneers to 121 wins (against 133 losses). His 1995 CSU squad won the Big South Conference title, and he twice earned Big South Conference "Coach of the Year" honors.
Edwards received a B.A. degree in English (magna cum laude) from Virginia Wesleyan University, where he was recognized as an academic All-American on the basketball court in 1979. He later earned a master's degree from Old Dominion University. Originally from Virginia Beach, Edwards now lives in Florence, South Carolina with his wife Corinne. They have two children, Grady and Casey.
How did your time at Virginia Wesleyan University shape the person you are today?
Virginia Wesleyan University was instrumental in shaping my professional life. I will always be grateful to Don Forsyth for giving me a chance to coach with him right after graduation. His support, patience, and guidance helped me start my coaching career at a very young age. And I will always believe that a call from President Lambuth Clarke to the president of Atlantic Christian College secured my first head coaching job.
How do you describe the Virginia Wesleyan experience to friends and colleagues?
The faculty and staff of Virginia Wesleyan gave me and the other students so much confidence to take on the world. Dr. Clark set the tone. His office was always open, he never forgot a name, and his praise and support meant so much to so many of us. That is how I describe the Virginia Wesleyan experience: the President knows your name, the professors know your talents and they are willing and able to bring out the best in you.
Anything else about your time at VWU you would like to share?
Many of my best friends to this day are friends I met while at Virginia Wesleyan. It was a very special time in our lives, made special by the extraordinary people of Virginia Wesleyan.