Jennifer Marshall '08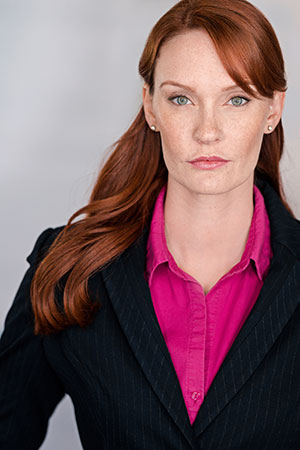 Jennifer Marshall '08, a U.S. Navy veteran, actress, and real-life licensed private investigator, graduated magna cum laude from Virginia Wesleyan with a double major in international politics and Spanish and a minor in history. She has a new investigative documentary series, Mysteries Decoded, which airs on Tuesdays at 9:00 p.m. EST. on The CW.

How did your time at VWU shape the person you are today?
When I was accepted to Virginia Wesleyan, I was two years honorably separated from the Navy. Growing up, I never thought I'd be able to go to college or even be able to graduate. It all sounded so foreign to me. Credit hours, semester hours, the different degree types…I didn't know what any of it meant. I remember meeting with Tanya in admissions, and she told me all about the school and reassured me that they had other veterans attending. She was warm and welcoming, and I was immediately sold on Wesleyan.

I loved my time at VWU. One of my majors was International Studies, and the professors were just outstanding. I remember the professors specifically asking for me to share stories of my time serving abroad because they wanted that perspective and saw the value in including a different experience. I had something to offer that the other students hadn't endured and the faculty welcomed my opinion and perspective. That meant a lot. It was a collaborative experience, not just a professor telling you what to think. Another one of my majors was Spanish. Speaking, reading and writing in another language all day is challenging—it prepared me so much for the outside world where I actually could use the language. I also got to use the language when we went on a school trip to Ecuador—an incredible experience I shared with my fellow students.

When I finally attended Wesleyan at 24 years old, I was older than most of the students but I still really wanted to have the ultimate college experience. I couldn't live on campus because I was married with children, but I decided to join a sorority. Tri-Sigma was an amazing fit for me, and I loved the wonderful ladies. It's an amazing organization, and I'm proud to be a Zeta Pi Tri-Sig. Overall, I'd say my time at VWU made me realize that the sky is the limit.

How did your Liberal Arts education prepare you for your career?

I would say it gave me a more well-rounded perspective, especially given that I came from a military family and had also served myself. It also made me a more curious person. On top of my undergrad from VWU, I also have a Master's degree from American Military University in a completely different area. I think I chose this path because I really wanted a wide base of knowledge. In my careers in TV/film and in Private Investigation, it's nice to be able to pull on knowledge from different areas. Everything I've learned at TCC, VWU and AMU has led me to be the person I am today. I can speak on International Relations as easily as I can prison and recidivism rates.

What advice would you give to young alumni?

Your biggest limitation is yourself. Often times, we don't want to oversell ourselves because we find it narcissistic or overbearing, but if you don't think you are qualified, why would an employer believe that? You need to sell yourself as a product, not a person. Be the solution to the needs of that employer. Be humble, but at the same time, know your strengths and don't be afraid to sell them.