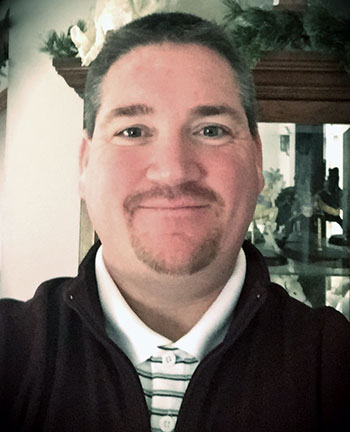 Heinz Ketchup's latest tagline, "Grown Not Made," is a nod to the company's commitment to quality and superior ingredients. It's not surprising that John Wink '94 would dedicate his career to a company that upholds these values. They do, after all, reflect some of the key principles the business management graduate learned as a student at Virginia Wesleyan. Today, Wink works for Heinz North America's Mid-Atlantic Foodservice Region. As a territory business manager, he supports a broad portfolio of Heinz products, brands and customers. He received the Heinz Ring of Excellence Award in 2013 and has been recognized as one of the Top Performing Business Managers in North America. As a VWU student, Wink played baseball for four years and spent two years working in Residence Life. He now lives in his hometown of Delran, New Jersey.
How did your time at VWU shape the person you are today?
One of the greatest experiences that we all have in college is the interaction with different people from different places and backgrounds, with different ideas and thoughts. VWU is a campus where we were students and young adults, not a campus where we were identified by a number. The everyday campus experience, along with the educational experience, gave me the tools and knowledge to deal with and interact with individuals from various backgrounds. VWU is a place that you can learn about yourself and develop into the type of person you want to be. I have conversations, meetings and interactions with people from all walks of life, including independent business owners, general managers, executive chefs, directors, managers, etc. Being able to relate and interact with individuals is key for me. I honestly believe that my time at VWU is where it all started, as to who I am and how I am in my professional career.
Favorite memories of friends, professors and mentors?
So many great memories of my time at VWU: My freshman year living in Gum Hall with a great bunch of people. I will never forget the housekeeper, Miss Minnie. She was an absolute sweetheart and one of the kindest people I've ever met; My Residence Life experience under Lina (Holbrook) Green. I might have driven her a little crazy, but I learned so much from her; My four years playing baseball under Coach Boothe. I'll never forget the 32-win season in my junior year; And how can I forget my business classes with Mr. [Dave] Garraty, particularly "Financial Management."
How are Wesleyan alumni different from other college alumni?
VWU wasn't a campus where you could hide and not be noticed. You got to know people, and they got to know you. It's like an extended family by a couple of thousand. It's easy to stay in touch with fellow alumni with social media or visits back to campus or planned get-togethers. The bond that was forged so many years ago, seems like it was just yesterday! Wesleyan alumni sincerely want to know how you are, what you are doing, and reminisce about the good ol' days!
Anything else about your VWU experience you would like to share?
I knew coming out of high school that a small college setting was best for me. I absolutely loved my time at VWU. I really did meet great people, great minds and, most of all, great friends and relationships for a lifetime! p.s. I wish the campus looked like it does today during my four years on campus!