Karen V. Corrigan '97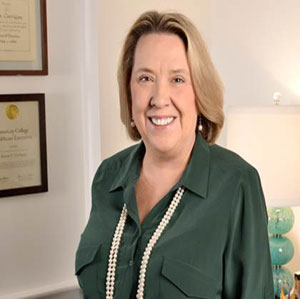 Karen V. Corrigan is the co-founder and CEO of Corrigan Partners LLC, a healthcare management consultancy firm based in Norfolk, Virginia. Karen's "inner-entrepreneur" was sparked by her experiences as an Adult Studies student in Virginia Wesleyan's Liberal Arts Management Program (L.A.M.P.) Her connection to the College has grown in recent years through her involvement with VWU's  50th Anniversary Planning Committee. Karen is an avid reader and publisher and lead blogger for Chief Marketing Officer, a social forum for healthcare marketing executives. She is married to Robin Cowherd and has three children—Diron Corrigan, Sarah Cowherd and Erin Swemba.
How did your time at Virginia Wesleyan University shape the person you are today?
I was a working professional when I entered Virginia Wesleyan's Adult Studies Program in the early 1990s to finish my college degree. The Liberal Arts Management Program offered concentrated studies in all aspects of business management, which both broadened and strengthened my knowledge of what it takes to be successful in the business world. VWU sparked the inner-entrepreneur in me and a year after graduation, I started my own company. Ten years later, I sold that company and have now started another new venture. Beyond business, the liberal arts approach to education also renewed my interests in art, philosophy and creative writing.
What are some of your favorite memories of professors, mentors or friends at VWU?
The staff and professors for the Adult Studies Program were superb and understood the challenges of juggling a family and full-time job with continuing education. There were times when I had to travel for business or had an ill child, and found everyone to be understanding and accommodating. It was also interesting to be in class with other adult students who enriched courses by sharing their own learning and expertise, as well as business and life experiences. Some of the best learning times were spent in small group project work.
How do you describe the Virginia Wesleyan experience to friends and colleagues?
When people ask me about Virginia Wesleyan, I tell them about the Liberal Arts Management Program experience and how valuable the liberal arts aspect of the program is for critical thinking, creativity, conceptualizing, communicating and understanding how people, organizations, societies and nations work. I also compliment the quality of the teaching, small class sizes, and resources available to the students.
Share your thoughts about one or more of the following: the value of a liberal arts education, the "small college difference," unique opportunities you had at VWU (internships, community service, study abroad, etc.).
A liberal arts education provides the foundation upon which any particular interest, skill or pursuit can be further developed. The diverse body of knowledge gained from a liberal arts education enables individuals to see the interrelatedness between subjects and ideas and events and societies. It basically teaches you how to learn – and continue learning throughout your life.
Anything else about your time at VWU you would like to share?
This past year I had the privilege of serving on the College's 50th Anniversary Planning Committee, where I learned even more about the history of the College and its contribution and achievements. VWU is a true asset for our Hampton Roads community and for every community where its students live and work.