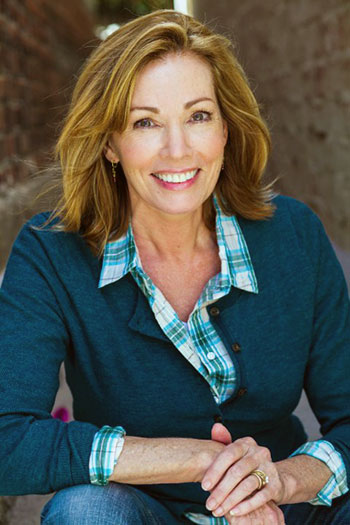 In the summer of 1977, just after graduating from VWU with degrees in art and education, Louisa "Lou" (Mulford) Greig got her true acting start in the Manteo, North Carolina outdoor drama "The Lost Colony." After just one season with the show, her director (the renowned, now-deceased Joe Layton) encouraged Greig to head west to Los Angeles. Since then, she has worked professionally in more than 100 national, regional, and local commercials and has been cast in print work ads, film and television. She's performed alongside some of film's great legends, including Barbara Stanwyk, Mel Brooks, James Garner, Patrick Swayze, George Clooney, "Mad Men" stars Robert Morse, Jon Hamm and January Jones, and most recently Mark Harmon and Scott Bakula on "NCIS." In 2011-2012, she wrote, produced, and starred in a comedic short film called Invasion of the Money $natcher$, recently screened as an official selection of the 2014 10th Annual HollyShorts Film Festival at the Chinese Theatres in Hollywood. She's currently developing a second script and hopes to complete the project within the next couple years. The actress, writer, producer and model lives in Los Angeles with her husband, Robert, and has two daughters, Erin and Julia. Information about her current projects can be found at her website www.loumulford.com.
How did your time at Virginia Wesleyan University shape the person you are today?
Virginia Wesleyan allowed me opportunities to grow and blossom because of the smaller campus numbers. I gained confidence from my achievements, both academic and extracurricular, onstage in the many Wesleyan productions I was a part of as an actress. There was a definitive "family" feeling about those formative years at VWU. I was encouraged by all my professors and supported by my friends, many of whom I am still in contact with today. I may not have had the courage to pursue my professional career in Los Angeles beginning in 1978 had I not attended Wesleyan where the atmosphere was close and nurturing.
What are some of your favorite memories of friends, professors or mentors at VWU?
Painting in the art room until the wee hours of the morning with fellow students via the luxury of a key to enter due to my work-study position as Barclay Sheaks' secretary. I'm not sure if a student could get away with that today, but it was a lovely creative time.
Touring with Bentley Anderson's production of "Everyman" in churches around the state. There was such a sense of camaraderie during that time of travel and spending time with fellow students performing, breaking set, loading for the next destination, and getting to know one another on more meaningful levels.
My film class with Rick Hite where we each were able to write, produce, film, perform in, edit, and screen amongst ourselves, our own short films.
Playing Rosalind in Professor Hite's production of Shakespeare's "As You Like It." One of my all time favorite roles as an actress. We performed in the newly built chapel making our changes upstairs in the balcony area. Crazy times. Fun, fun play!
Whacking Randy Berman with a slap-stick so hard I kept breaking it in the one-act "A Merry Death." Poor Randy.
January Term picking oranges with the migrant farm workers in Florida with Dr. Artis and staying at Hollywood's Yogi's Jellystone park in campers.
January Term in London! I saw Judi Dench perform as "Kate" in "Taming of the Shrew" onstage in Stratford-upon-Avon. I remember thinking she was the best actress I'd ever seen in my life and I wanted to do what she was doing.
Watching Barclay Sheaks paint one of his landscapes brilliantly in sheer minutes for class. Getting to know him on a personal level as his work-study student was a privilege and an honor. He was genius and a wonderful, warm, human being.
Spooling on the campus grounds.
Student dances in the Rose Hall Lounge.
Performing with our Improv Troupe at the student Coffee House.
Feeling cared about by all my professors and being given interesting and creative lessons across the board that challenged and engaged me. I loved all my classes! Some of my favorites included Horticulture; science with Dr. Simsohn; education with Dr. Churukian; history with Dr. Mansfield; philosophy with Dr. Lapchick; psychology with Dr. Lipscomb; English with Bruce Guernsey; Dr. Tucker made history come alive; pottery with Neil Anderson; all the amazing work with Rick and Bobbie Hite in theatre; and of course the incomparable Barclay Sheaks who encouraged and inspired me daily.
How are Wesleyan alumni different from other college graduates?
Well, I would venture to say we are possibly a closer bunch than many.  With the advent of Facebook I've been able to reconnect with many old friends and the feeling is as warm and family-like as ever.
Anything else about your VWU experience you'd like to share?
It was an exciting, educational, adventuresome time.