Eric Miller '12 and Bill Miller '09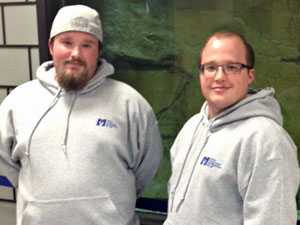 Eric Miller '12 and Bill Miller '09, pictured right, admittedly struggled to take education seriously prior to Virginia Wesleyan. Growing up in Virginia Beach, the brothers lacked motivation in school, searching for something more stimulating. This changed when they chose to pursue a liberal arts education at VWU, a learning opportunity that ultimately helped them build meaningful relationships, gain real-world experience, and cultivate new ways of looking at the world. With a new outlook on education and excitement for their future, Eric earned his bachelor's in business management and Bill received a social science degree. Still living in Virginia Beach, the Millers both work for Miller Integrated Management Group, a family-owned electrical control panel and maritime security company. Eric serves as an Accounts Payable Accountant for the company and Bill is a Human Resources Assistant. The brothers enjoy playing golf, water sports, volunteering in the community and attending sporting events, especially New York Giants and New York Yankees games.
How did your time at Virginia Wesleyan University shape the person you are today?
EM: Before transferring to Virginia Wesleyan, I didn't take college seriously. VWU inspired me to be a better student and work to my fullest potential, making me realize that I can do whatever I want, as long as I give it my all.
BM: Virginia Wesleyan encouraged me to work on my interpersonal skills. It is important, and less stressful, to use positive communication with others. I learned that it's okay to ask for help and seek guidance from mentors, counselors, professors, etc.
What are some of your favorite memories of professors, mentors or friends at VWU?
EM: A great adviser, Paul Ewell was one of my favorite professors during my time at VWU. I always looked forward to his classes. I didn't live on campus, but I definitely met a lot of great people. I would like to give a shout out to members of Team Zentech (my ISP group) and everyone I worked with during the 2012 Spring Semester Business Conference.
BM: John Braley from the Recreation and Leisure Department stood on top of his desk and fell backward with the hope that we would catch him. He fell safely into our arms and we began to trust each other. Without trust, people cannot accomplish their goals and objectives.
How do you describe the Virginia Wesleyan experience to friends and colleagues?  
EM: VWU is a great college to attend. Every professor cares for their students and wants to see them succeed. From my first semester to my last, I definitely enjoyed my time at VWU and will never forget it.
BM: I knew I had to grow up and take responsibility for my actions. Without Virginia Wesleyan, I would not be where I am today.
Share your thoughts about one or more of the following: the value of a liberal arts education, the "small college difference," unique opportunities you had at VWU (internships, community service, study abroad, etc.).
EM: Attending a small college like VWU is a great way for students to better connect with professors and classmates. Everyone can be involved in class discussions and no one should feel left out.
BM: As a graduate of a liberal arts college I believe that I am a well-rounded person. VWU taught me that balance in life is essential.
Anything else about your time at VWU you would like to share?
EM: GO MARLINS!
BM: I would like to thank everyone at VWU for their support and dedication toward my livelihood and well-being.