Nina (Hlebarova) Malone '04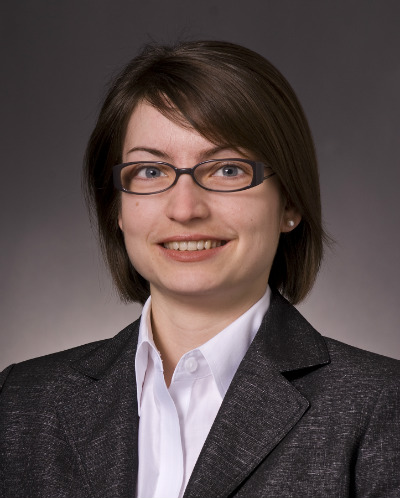 One of Nina (Hlebarova) Malone's most memorable VWU moments is crafting a life-size paper boat and sending it out to sea at YMCA Camp Silver Beach. Seems fitting, then, that today the 2004 graduate of the Liberal Arts Management Program (LAMP) works with larger-than-life-size boats at the Port of Virginia. As director of market analysis, she examines port terminal activity, international trade and market data as it relates to Port of Virginia's strategic trends and competitive position. International business holds a personal interest for Malone, who originally hails from the southeastern European country of Bulgaria. She set her sights on a global career path from the get-go as a member of VWU's Wesleyan Scholars Program (now the Honors and Scholars Program). The academic scholarship program gave her the opportunity to work on an original research project assessing the profitability of Norfolk Southern Corporation, an experience that helped lead her down the path to international trade in the transportation and maritime industries. As an undergrad, she also sharpened her leadership skills through VWU's Student Government Association and the Wesleyan Ambassador Program. She later earned a master's degree from the Mason School of Business at the College of William & Mary (2010). Coastal Virginia is now home for Malone, where she lives with her husband, Marty, and their daughter, Maya.
How did your time at Virginia Wesleyan University shape the person you are today?
College for me was as much about getting an education as it was about getting to know yourself. When you are on your own for the first time in life, you learn about the world and yourself in a different way. The small college atmosphere at Wesleyan allowed me to interact with classmates, professors and college staff in and outside the classroom. For me, my professors became my mentors and steered some of the early decisions in my life. They opened my eyes to what was (and what wasn't) important to life after college so that I could make the right choices. That was really important to me and something I will always remember Wesleyan by.
What are some of your favorite memories of professors, mentors or friends at VWU?
Some of my favorite memories at Wesleyan include making a life-size paper boat and launching it in the water at YMCA Camp Silver Beach; searching for pennies in the mud at the annual Mud Games; having fun with fellow classmates at Airband; signing a structural beam for the Batten Student Center during its construction; studying late at night at Hofheimer Library when it was really quiet; living with fellow international students in Johnston Hall; having lunch with President Greer and other Wesleyan Ambassadors in the President's office suite; taking Professor of Management/Business/Economics Dave Garraty's classes (who could always make classroom material relevant in real life); and yoga class at 8 a.m. in the morning!
How do you describe the Virginia Wesleyan experience to friends and colleagues?
A close-knit community; a place where professors really care about you and your success in college and beyond.
Share your thoughts about one or more of the following: the value of a liberal arts education, the "small college difference," unique opportunities you had at VWU (internships, community service, study abroad, etc.).
Wesleyan's small college experience made it easy to make friends in and outside the classroom. At my very first visit to campus (before I was a student), I was amazed at the close-knit student community where fellow classmates went to class together, had lunch together in the cafeteria, studied together and helped each other. Seeing that made me want to attend VWU. Also, the small class size allowed me to ask questions and learn at my own pace. Everyone on campus was approachable and knew your name—from professors to classmates, to staff members, to President Greer. The Wesleyan experience is focused on allowing students to learn and grow in and outside the classroom by helping each one develop their own views and form new perspectives.