Paige Russell '97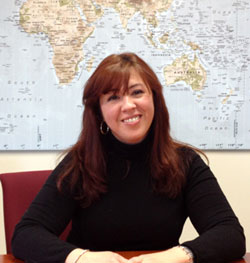 By the time she graduated from Virginia Wesleyan University with a degree in philosophy, Paige Russell was well versed in the opinions of others. However, it was the supportive and encouraging environment she found here that allowed her to feel comfortable expressing her own. Today, Paige serves as a Lecture Agent at W. Colston Leigh, Inc., an international firm founded in 1929, at one time featuring prominent speakers such as Eleanor Roosevelt and Boris Yeltsin. Paige works primarily with writers, political figures, and academics who are sought after to deliver lectures in academic and business settings. Her portfolio includes Nobel Prize-winning economists, business speakers, technology gurus, and scholars. Among her favorite speakers are author Malcolm Gladwell and political commentator David Brooks, who is speaking on the Virginia Wesleyan Campus on March 21, 2012.
How did your time at Virginia Wesleyan University shape the person you are today?
VWU encouraged my curiosity to learn. Everyone was approachable, and I never felt like my opinion didn't matter, especially in philosophy. My ideas were always heard and considered. Now, I am also able to listen to the other's viewpoints and find value in what they say, even when I disagree. I don't always agree politically with each speaker that I represent, but I am able to take a well-rounded look at their arguments and form my own opinions without discounting theirs.
What are some of your favorite memories of friends, professors or mentors at VWU?
I loved living on campus and course my philosophy classes!  I didn't come into college with the confidence that I could really give any valuable input in a discussion. But my classes, particularly with Dr. Larry Hultgren, always encouraged that. I constantly surprised myself by how often I was compelled to participate which helped me value myself as a more insightful person.
How are Wesleyan alumni different from other college graduates?
My friends and fellow alumni from VWU all carry different political stances and ways of looking at the world. But what we all have in common is that we speak thoughtfully and in a way that is not alienating to each other. We're all open to each other's ideas.
Anything else about your VWU experience you'd like to share?
I really am grateful for my experience at VWU. It gave me the opportunity to shape my education as much as it shaped me, and that's what I really appreciated leaving school with. VWU really did change me, and I can attribute the ability to do what I'm doing right now directly to my experience there.