Peter Warren '05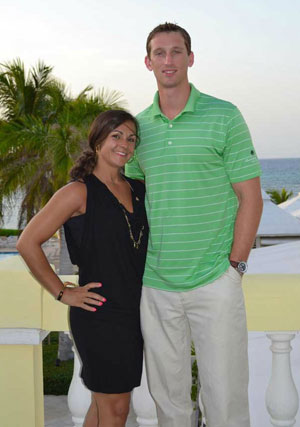 It's hard to believe that it's been almost 10 years since Peter Warren '05 was shooting hoops at VWU, with President Billy Greer getting the crowd riled up on the sidelines. During his time at the College, Warren studied in the Liberal Arts Management Program (LAMP), played men's basketball and also found time for golf. Upon graduating, he returned to his hometown of Winchester, VA and began working as a Regional Bank Private Banker at Wells Fargo (he holds licenses in VA Life Insurance & Annuities; Series 6, 63, 65, & 7). Warren continues to play golf and also runs, hikes and works out. He enjoys spending time with his wife, Ashley, and their two dogs, a Labrador Retriever named Mazie and Lola, a Chihuahua.
How did your time at Virginia Wesleyan University shape the person you are today?
By the time I graduated, I had evolved from a shy 18 year old into an outgoing person. I attribute this solely to the fact that I chose a school where, going in at enrollment, I had no established relationships. I was able to take advantage of my involvement with the athletic programs and the small classroom settings to build many great friendships.
What are some of your favorite memories of professors, mentors or friends at VWU?
I am a big fan of President Greer and I always enjoyed him getting the crowd going at the men's basketball games. One of the best spots in the area is definitely Chick's Beach. I loved going there to hang out with friends. I also enjoyed catching a Norfolk Tides baseball game on the weekends and grabbing some local food in downtown Norfolk.        
How do you describe the Virginia Wesleyan experience to friends and colleagues?
VWU is a great place to get a well-rounded education and to enjoy the many attractions that the Hampton Roads area has to offer. It will also help you evolve into a better person overall and gain the necessary life skills to succeed in the real world.
Share your thoughts about one or more of the following: the value of a liberal arts education, the "small college difference," unique opportunities you had at VWU (internships, community service, study abroad, etc.).
I believe that a small college makes a huge difference in getting a great education and in becoming a better person. The liberal arts education allowed me to gain a broad range of knowledge and follow the path that interested me the most. I could always count on great advice and guidance along the way from my advisors, professors, and coaches. The people at VWU, from professors to staff to coaches, all seem to care about the students succeeding in school and life and they show that support on a daily basis. I can't say enough about the great choice I made in attending VWU!
Anything else about your time at VWU you would like to share?
GO MARLINS!!!