Rex Hamaker '04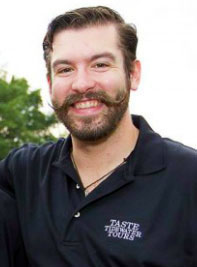 As a student at Virginia Wesleyan, Rex Hamaker Jr. '04 had a full plate. He worked for Residence Life as well as the College's Learning Center and was also involved in spiritual life on campus. The Virginia Beach native triple-majored in education, French and German and also spent a year studying abroad in Angers, France. When his parents, Rex Sr. and Lisa (Grubbs) Hamaker '84, visited him in the populous French city, the threesome enjoyed sampling the regional wines and local cuisine. After Rex graduated, the family returned to France—this time, Bordeaux—and continued their international tour of food, drink and culture. Their travels abroad inspired the Hamakers to explore the unique food and drink right here in Southeastern Virginia and, in June 2013, they launched Taste Tidewater Tours. Showing locals and tourists the best wine, brew, farm and food the area has to offer, the company provides guided tours aboard their 12-passenger executive coach. As the company's director of marketing and administration, Rex Jr. is able to fuse his Wesleyan education and global perspective with his passion for the Hampton Roads region.

How did your time at Virginia Wesleyan University shape the person you are today?
Virginia Wesleyan gave me the space and support to explore many different interests at the same time, which is something I wouldn't have had at a larger school. I'm still using the competencies gained during my time at VWU.

What are some of your favorite memories of friends, professors or mentors at VWU?
During Hurricane Isabel, classes were cancelled due to power outages and that catalyzed a great bonding experience with friends in the residence halls. Bonfires in the cinderblock fire pit by the dock on Lake Taylor are another great memory of my time at VWU.

I still keep in touch with Susan Wansink (Batten Professor of German and Director of Winter Session) and Craig Wansink (Professor of Religious Studies) as well as Alain Gabon (Associate Professor of French) and the staff at the Learning Center.

How are Wesleyan alumni different from other college graduates?
In my experience, many Wesleyan alumni I know go on to higher education and to work in their fields of study.