Timothy Munford '91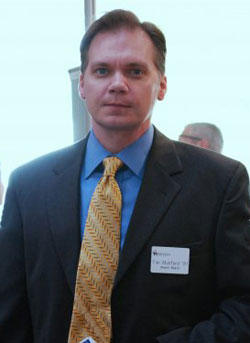 Timothy Munford received a B.A. in political science from Virginia Wesleyan in 1991. He was a member of the Phi Kappa Tau fraternity and played intramural basketball. The Ladysmith, Virginia native has since relocated to Fredericksburg, where he balances his time between a busy career as a Network Engineer for Verizon and his family, including wife Jenn and daughters Sydney, 15, and Shelby, 10. He is an avid Marlins basketball fan, plays in a pool league, enjoys biking, fitness and discussing politics and current events.
How did your time at Virginia Wesleyan University shape the person you are today?
At VWU, I learned personal responsibility, self-reliance and self-discipline. Virginia Wesleyan provided the tools and guidance needed to enable me to make (mostly) good decisions that led to a successful college experience.
What are some of your favorite memories of professors, mentors or friends at VWU?
I have a great memory and respect for then President Lambuth Clarke. It always impressed me how he knew everyone's name and could find some common ground or connection with everyone on campus.
I also have great memories of my two main professors, Bill Jones and Del Carlson. Both were always passionate and excited about the course material and class discussions, making it easy to stay interested. Carlson's obsession with Publius and Jones' with finding the political themes in movies will stay with me forever.
And of course, Dean David Buckingham, who is still a fixture on campus with those bowties. What a great character and great advocate for the school, its programs, and its faculty and staff.
How do you describe the Virginia Wesleyan experience to friends and colleagues?
VWU has an enclosed, self-contained campus with a great small town feel, but in the middle of a fairly large metropolitan area. It was a great and safe place to "grow up"' and learn to be a successful adult.
Share your thoughts about one or more of the following: the value of a liberal arts education, the "small college difference," unique opportunities you had at VWU (internships, community service, study abroad, etc.).
I very much recommend the small college experience and especially the one offered at VWU. What a great way to get a quality education. Small class sizes and top notch professors lead to what Dr. Bill Jones called "a real collegial experience."  
Anything else about your time at VWU you would like to share?
The culture in the Norfolk/Virginia Beach area is great. Norfolk might be a small, southern city but it has all of the amenities and culture of a much larger city. The Wells Theatre, the Little Theatre of Norfolk, the Harrison Opera House, Chrysler Hall and Scope combine to provide regular venues for live theatre, opera, symphony, ballet, and more. For sports fans there is Norfolk Admirals hockey, Norfolk Tides baseball and now ODU football. Of course, let's not forget the beaches! I really learned to appreciate many aspects of culture and life while at Virginia Wesleyan.