NYC Alumni & Friends Tour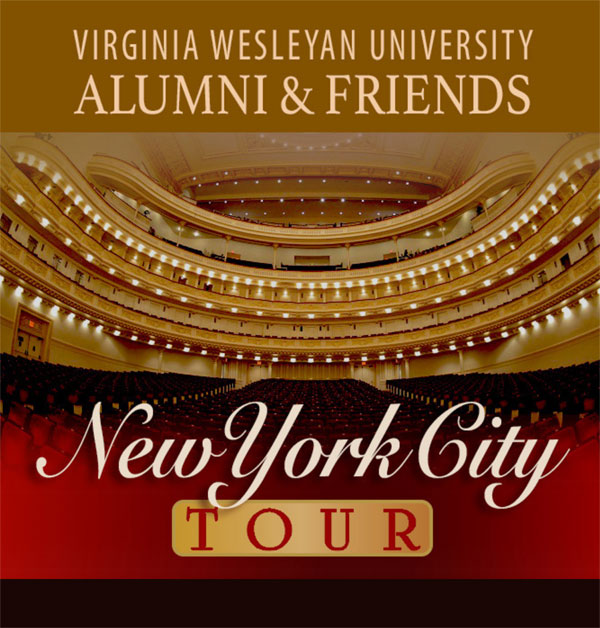 April 28, 2022 to May 1, 2022
Relax and immerse yourself in the special camaraderie that happens when VWU alumni and friends visit a captivating destination and share in new experiences together.
VWU Alumni & Friends Tour guests will stay in exceptional accommodations, dine in the heart of the city, view an art collection at one of the world's finest art museums, attend an extraordinary concert performance by the Wesleyan Choir at a national historic landmark, and much, much more!
VWU Alumni & Friends who are NYC and surrounding area residents, please plan to join us. As we finalize our plans, further tour details and how you can register to attend will be announced. Stay tuned for updates!
Tour Overview
Day One (Thursday, April 28)
Day Two (Friday, April 29)
The Metropolitan Museum of Art – Exclusive tour of Winslow Homer: Crosscurrents exhibition
"Dinner with VWU President" – Location TBA. Dine in a private setting with Dr. Scott D. and Annie Miller
Day Three (Saturday, April 30)
Steinway & Sons – Showroom and "Behind the Scenes" tour
Carnegie Hall – The Virginia Wesleyan Singers perform with hundreds of singers under the direction of VWU Associate Professor of Music, Chair of Fine and Performing Arts Dr. Bryson Mortensen
Day Four (Sunday, May 1)
Location TBA – Farewell to NYC Breakfast
Depart
---
VWU Contact Information
Kim Hammer
Vice President for Advancement and Special Assistant to the President
khammer@vwu.edu
757.455.3205
Lori Harris '94
Associate Vice President for Advancement and Executive Director of Alumni Relations
lharris@vwu.edu
757.233.8786
---
FAQ's
Do I need to be VWU Alumni to travel?
No. Friends of VWU are welcome to join!
I don't live in VA. Do I have to make my own flight arrangements?
No. We can assist with your flight arrangements to best coordinate your arrival location and time with those flying in from the Norfolk International Airport.
I live in or near NYC. Do I have to register to attend events?
Yes. Once the registration page is live, you'll be able to register to attend.