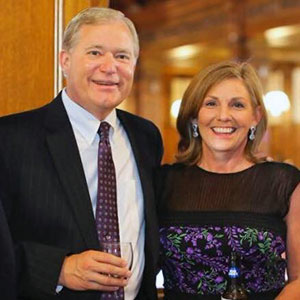 Annie Miller is the wife of Virginia Wesleyan's fourth president, Dr. Scott D. Miller. She has served as presidential spouse at four liberal arts colleges during the past 33 years.
A native of Rio Grande, Ohio, she holds nursing degrees from the University of Rio Grande in Ohio and Bellarmine University in Kentucky.  For 25 years she served as a nurse for a private medical clinic and a campus-based charter school.    
In addition to Virginia Wesleyan, she has served as First Lady at Bethany College in West Virginia (2007-15), Wesley College in Delaware (1997-2007), and Lincoln Memorial University in Tennessee (1991-97).
The Millers have been married for 40 years and live in DeFord Manor on campus. They have two adult daughters who grew up on college campuses. Dr. Katie Miller Sanders, her husband Dr. Gary Sanders, daughter Addison, and son Gavin, live in Stephens City, Virginia. Ashlee Miller Upp, her husband Justin Upp, daughter Abigail, and son, Brycen, reside in Dover, Delaware.