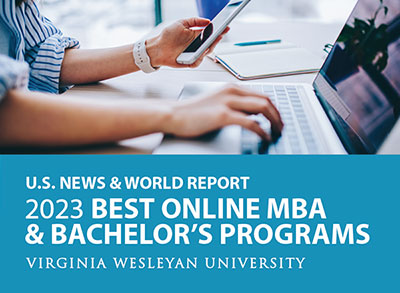 Virginia Wesleyan University provides a rigorous liberal arts education to students from a variety of backgrounds and regions, and empowers them to do great things with their lives. With nine online academic programs, VWU Global Campus provides a convenient online format that allows for you to choose a program of study that meets your interests and will allow you to achieve your goals. VWU online courses are designed to bring the liberal arts experience to wherever you are.
Courses are taught in 7 week sessions, allowing students to begin their studies throughout the year and to have the flexibility they need to balance their course work, family, career, and other responsibilities.
Virginia Wesleyan University offers ten undergraduate degree programs and two graduate programs online.  All online programs are taught to the same standards as on campus courses and offer the same library, tutoring, and other resources.
In addition to the ten major programs, students can also pursue minors and certificates in a variety of areas such as Communication, Music Technology and Sound Recording, and Supply Chain Management and Logistics.
The University's inaugural graduate program was an online Master of Business Administration (MBA).  This program now offers concentrations in Health Care Administration and Finance.  We also offer an on campus master's degree in Education (MAEd) and an online Master of Education (MEd) program, with a concentration in Teacher Leadership.
Undergraduate Online Programs
Undergraduate Certificate Program
Graduate Programs
Main Campus
Online Only