Dr. Steven M. Emmanuel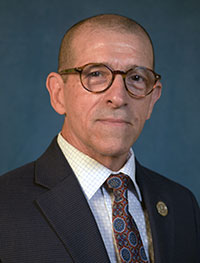 Steven M. Emmanuel is Dean of the Susan S. Goode School of Arts and Humanities at Virginia Wesleyan University. He attended Boston University as an undergraduate and completed his doctoral degree in philosophy at Brown. Prior to joining the faculty at Virginia Wesleyan, he held visiting appointments at Kenyon College, Grinnell College, and the University of California.
Dr. Emmanuel's research and teaching interests lie mainly in the history of philosophy, with a special focus on moral and religious thought. A former Fulbright Fellow at the University of Copenhagen, he has worked extensively on the 19th-century Danish thinker Søren Kierkegaard. In more recent years, he has immersed himself in the study of Asian philosophical traditions. This has led to several student-faculty research projects in Vietnam and China, as well as extended individual research trips to India and Japan. From 2012-2016, he served on the Executive Board of ASIANetwork, a national organization dedicated to promoting research in Asian Studies.
Dr. Emmanuel is a recipient of the SCHEV Outstanding Faculty Award, the Batten Distinguished Scholar Award, Virginia Wesleyan's Distinguished Teaching Award, and the Martin Luther King Jr. Peace and Justice Award. In addition to numerous articles in respected journals of philosophy and religion, he has published 12 books in his areas of specialization. In 2008, he produced and directed an award-winning feature-length documentary film, Making Peace with Viet Nam, which examined the challenges of reconciliation in the aftermath of war. His research has been supported by grants from the Freeman and Mellon foundations, as well as the American Council of Learned Societies, the National Endowment for the Humanities, and the American Philosophical Society. 
Beyond campus, Dr. Emmanuel serves as the Statewide Faculty Coordinator of the VFIC Ethics Bowl program, which promotes the development of ethical reasoning skills in students across Virginia. 
In his free time, Dr. Emmanuel is an avid practitioner and instructor of martial arts, a sports enthusiast, and a fan of Marlin Athletics. He currently lives in Virginia Beach with the love of his life, Henriette.