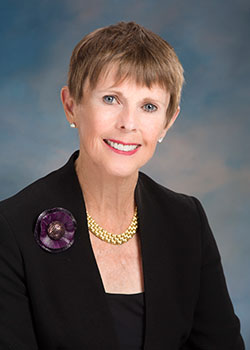 Joan Perry Brock, a native of Norfolk, is a community leader and philanthropist. She graduated from Longwood University with a Bachelor of Arts in secondary education and a minor in mathematics. Fascinated by the visual arts while volunteering as a museum docent, she chose to further her education with a Master of Arts in humanities from Old Dominion University. Steadfast in her community efforts, Brock dedicates her knowledge and skills to organizations and programs that benefit culture, education, and community.
Brock served on Virginia Wesleyan University's President's Advisory Council from 1996-1999, the Board of Trustees from 1999-2006, and was Chair of the Board of Trustees from 2001-2004. The University awarded her with an honorary Doctor of Laws in 2010. She has also chaired the Board of the ACCESS College Foundation and was the first woman to preside over the Chrysler Museum Board. She's served on the Sentara Board of Directors since 2006 and has led the Sentara Foundation-Hampton Roads Committee since 2007. Mrs. Brock is also a member of the National Board of the United Way Women's Leadership Council.
Devoted to her Hampton Roads community, she and her husband, Macon, established the M. Foscue Brock Institute for Community and Global Health at Eastern Virginia Medical School and the Chesapeake Bay Foundation's Brock Environmental Center in Virginia Beach. The Brocks have received many commendations for their commitment to giving back. Most recently, they were recognized as 2014 Health Care Heroes for their participation in health-related philanthropy by Inside Business and were honored as Outstanding Philanthropists by the National Board of American Fundraising Professionals in 2015.
The strength of Virginia Wesleyan University today can be traced in significant ways to the leadership and support of Joan Brock. Many different aspects of the University have benefited from her genuine interest in students, programs and facilities, and from her wise consideration of how to make the University stronger. Mr. and Mrs. Brock have been important and thoughtful benefactors of the University. In recognition of their generous support of the Center for the Study of Religious Freedom, student scholarships, residence hall improvements, athletics programs, and other programs, in 2006 the University named a residence hall complex after them: Joan and Macon Brock Village.
Mrs. Brock's service and commitment to Virginia Wesleyan University continues a long family tradition. Her uncle, Douglas McIntyre, served as the College's first registrar and was a member of the faculty for 25 years. Her father, Kenneth R. Perry, served on the Board of Trustees from 1991 until his death in 2004 and was awarded an honorary Doctor of Laws degree in 2002, the first year the College presented honorary degrees.
Joan Brock served for many years in an administrative role at Dollar Tree Stores, Inc. and K & K Toys. She and Macon were married for over 50 years before he passed away. They have three children and six grandchildren.