Capital Projects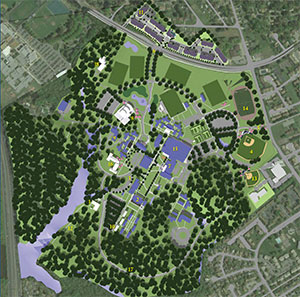 Virginia Wesleyan recently completed a comprehensive campus master planning process addressing how to best meet the University's academic mission, future campus needs, and commitment to sustainability through the ongoing evolution of its physical space. The 10-year Campus Master Plan responds to a set of specific questions, challenges, and opportunities facing the University as we plan for the future. Areas of inquiry not only focus on the inevitable long-term expansion of facilities and capital projects, but also address Virginia Wesleyan's commitment to sustainability and responsible land use.
Priorities of the Campus Master Plan include:
(View a Campus Master Plan)
Recent Projects
Frank Blocker Youth Center at YMCA Camp Red Feather
Greer Environmental Sciences Center
Greer/Blocker Circle and Parking
Kenneth R. Perry Field
Short-Term Projects
Baker Road Entrance
Campus Entrance
Commons/Boyd Dining Center Expansion
Goode Fine and Performing Arts Center
Fine Arts Building
Honors Village Expansion
Oxford Village
Path to Lake Taylor
Softball
Track and Field
Longer-Term Projects
Fitness and Weight Room Expansion
New 128-bed Residence Hall
Loop Road Completion
President's House

To support current capital projects, please contact advancement@vwu.edu.