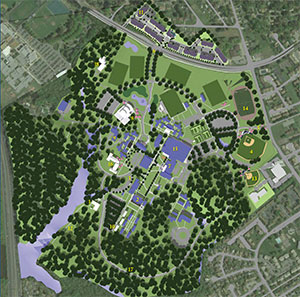 In 2016, Virginia Wesleyan University concluded a comprehensive 10-year master planning process titled "Transformation Now!" This initiative involved external experts who conducted a thorough assessment of the campus infrastructure, including space utilization, parking, and corrective maintenance studies. Together with the formulation of the strategic plan, this evaluation led to the development of a Campus Master Plan that spans from 2016 to 2026.
This Campus Master Plan is a holistic approach that addresses Virginia Wesleyan's academic mission, future campus requirements, and dedication to sustainability in shaping its physical space. It tackles specific questions, challenges, and opportunities encountered by the University as it prepares for the future. The focus extends beyond merely expanding facilities and capital projects; it also underscores Virginia Wesleyan's commitment to sustainable and responsible land use.
Priorities of the Campus Master Plan include:
(View a Campus Master Plan)
Recent Projects
Frank Blocker Youth Center at YMCA Camp Red Feather
Greer Environmental Sciences Center
Greer/Blocker Circle and Parking
TowneBank Park - Kenneth R. Perry Field and Tom & Betty Broyles Field
Marlin Way (Baker Road Entrance)
Sue Benton Birdsong Campus Entrance
Brock Commons (Boyd Dining Center Expansion)
Susan S. Goode Fine and Performing Arts Center
Susan Beverly Hall (Fine Arts Building)
Coastal 61 at Oxford Village
Path to Lake Taylor
Betty S. Rogers Track and Field Center
TowneBank Arena
Clarke Hall Modernization (Phase I)
DeFord Manor (President's House)
Jack E. and Bill D. Lingo Fitness Center (Fitness and Weight Room Expansion)
Short-Term Projects
Watts Fieldhouse for Broyles Field
Locker Rooms for Perry Field
Clarke Hall modernization (Phase II)
Blocker Youth Center expansion
Longer-Term Projects
Honors Village Expansion
New 128-bed Residence Hall
Loop Road Completion

To support current capital projects, please contact advancement@vwu.edu.