Marlin Athletic Fund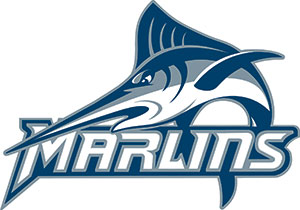 Nearly 400 student-athletes represent Virginia Wesleyan on the field and court, in the pool, and in the classroom. As we prepare these students for lives of leadership and social responsibility, we invite you to join us in making an impact on their development.
Just as every member of a team contributes to its overall success, support of the Marlin Athletic Fund is important to the success of VWU's 22 sports teams. Gifts to the Marlin Athletic Fund assist our teams in maintaining adequate equipment, providing uniforms, and meeting extensive travel needs.
Team up with the Marlin Athletic Fund by making your gift at www.vwu.edu/maf and select "Athletic Excellence" to ensure Virginia Wesleyan's student-athletes are positioned for success!
View our 2018-19 Marlin Athletic Fund Honor Roll of Donors
---
Friends of the Marlin Athletic Fund are those that make gifts of $100 or more to VWU intercollegiate athletics. As a special thank you to our Friends, the University is offering a Halftime Hospitality Area during select men's and women's basketball games during the 2018-2019 season. Friends will be mailed a membership card that allows 2 guests into the Halftime Hospitality Area, which will open 5 minutes before halftime begins and close 5 minutes after halftime ends.
Please see the list below of selected games:
November 16
MBB Marlin Tip-Off Tournament @ 7pm


(halftime presented by Sodexo)

November 20
WBB vs. N.C. Wesleyan @ 5:30pm / MBB vs. Salisbury @ 7:30pm


(halftime presented by Sodexo)

November 25
WBB vs. Guilford College @ 2pm / MBB vs. Guilford College @ 4:30pm


(halftime presented by Sodexo)

 
December 1
MBB vs. Washington & Lee University @ 2pm
(halftime presented by ShoreBreak Pizza)
December 5
WBB vs. Bridgewater College @ 5:30pm / MBB vs. Univ. of Mary Washington @ 7:30pm
(halftime presented by Jimmy Johns) 
January 3
MBB vs. Randolph-Macon College @ 7pm
(halftime presented by Ballyhoos)
January 9

MBB vs. Bridgewater College @ 7pm 
(halftime presented by Chick Fil A )

January 16
MBB vs. Eastern Mennonite Univ. @ 7pm
(halftime presenter by Smoothie Stop)
January 19
MBB vs. Ferrum College @ 2pm
(halftime presenter by ShoreBreak Pizza)
January 26
WBB vs. Emory & Henry College @ 2pm / MBB vs. Roanoke College @ 4:30pm
(halftime presenter by Smoothie Stop)
February 9
WBB vs. Ferrum College @ 2pm / MBB vs. Emory & Henry College @ 4:30pm 
(halftime presenter Taste)
MBB = Men's Basketball
WBB = Women's Basketball