President's Cabinet
Purpose
The President's Cabinet is comprised of leaders of each major University division and provides advice and counsel to the President, leveraging its collective knowledge and expertise to advance the University's mission. Cabinet members deliver effective, responsive, and informed institutional leadership, and provide penultimate review of recommendations to the President of the University on matters of broad institutional significance. The President's Cabinet ensures that the University makes timely progress toward its goal of advancing as Coastal Virginia's premier university of the liberal arts and sciences.

Constituent Communication
Each member of the President's Cabinet ensures effective communication with his or her constituents. This communication, which must be reciprocal, involves anticipating issues, seeking perspective and advice, and sharing information before and after decisions are made. The format of these communication networks is at the discretion of each Cabinet member.
Membership
Cabinet members serve at the invitation of the President of the University. The current roster includes: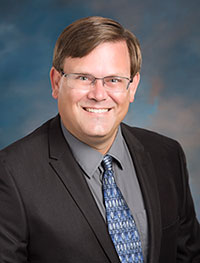 Vice President for Academic Affairs
757.455.3247
mschaus@vwu.edu
Show Bio
Dr. Maynard Schaus is the Vice President for Academic Affairs at Virginia Wesleyan University. He has a Ph.D. in zoology from Miami University (Ohio) and a B.S. in biology from California Lutheran University. Previously at Virginia Wesleyan, he served as Associate Provost and Dean of University College, Chair of the Division of Natural Sciences and Mathematics, and Director of Undergraduate Research. A member of the VWU faculty for over 20 years, he is also a professor of biology and has taught courses such as Principles of Biology, General Ecology, Humans and the Environment, and Topics in Tropical Biology.
Dr. Schaus' research has primarily focused on the role of fish in freshwater nutrient cycles. He has received funding from the St. Johns River Water Management District to investigate the impact of gizzard shad on the water quality of Lake Apopka, Florida. He has also involved students in research projects examining salt marsh bird community composition, runoff from green roofs, and the behavior of harvestmen (daddy longlegs) in Costa Rica and Belize. His work has been published in journals such as Freshwater Biology, Ecology, Limnology & Oceanography, and the Transactions of the American Fisheries Society.
Dr. Schaus is originally from Southern California and lives in Norfolk, with his wife, Kathy. They have three children.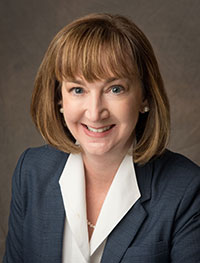 Vice President for Advancement
Special Assistant to the President
757.455.3205
khammer@vwu.edu
Show Bio
Kimberley J. Hammer Esq. is Vice President for Advancement and Special Assistant to the President at Virginia Wesleyan University. Prior to her arrival at VWU in 2020, Hammer served as vice president for advancement at Carlow University. During her 28-year career in advancement, she has also served as vice president for development at Robert Morris University, director of development at The Pittsburgh Promise, executive vice president for development at the Children's Hospital Foundation of Pittsburgh of the University of Pittsburgh Medical Center, and vice president for development and donor services at the Pittsburgh Foundation. Prior to that, she was an attorney at Buchanan Ingersoll and Rooney.
She earned her law degree from the University of Cincinnati College of Law and her bachelor's degree from Ohio Wesleyan University. A member of the Estate Planning Council of Pittsburgh, Hammer is also active in her community as a board member for Catholic Charities of Pittsburgh and a former board member of the Children's Museum of Pittsburgh.
Hammer and her husband Ted are parents to twin sons, Blake and Trent. She enjoys gardening, cooking, walking and golf.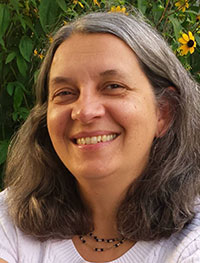 Vice President for Campus Life and Operational Management
757.455.3354
kmoore@vwu.edu
Show Bio
Dr. Keith Moore is Vice President for Campus Life and Operational Management at Virginia Wesleyan University, a role he assumed in January 2016. In this capacity, he oversees the areas of Residence Life, Student Activities, Health Services, Student Center, University Chaplain, Counseling Services, Campus Security, Wesleyan Engaged, Health Services, IT, Dining Services, and Facilities Management. Dr. Moore previously served as Virginia Wesleyan's Associate Vice President for Student Affairs. He first came to Virginia Wesleyan in 1999 as the Assistant Director of Residence Life and Director of Intramural Sports and has held additional roles as Director of Residence Life, the Men's and Women's Cross Country Coach, Institutional Assessment Coordinator, and Dean of Students.
A Boston native, Dr. Moore has also held positions in new student orientation and housing and residence life at University of Massachusetts at Amherst. He has served as president of the Virginia Association of Student Personnel Administrators and taught courses through Old Dominion University's Darden College of Education. Moore holds an Ed.D. in Higher Education Leadership from Nova Southeastern University. He earned an M.Ed. in Educational Policy, Research, and Administration from University of Massachusetts at Amherst, and a B.A. in Politics and History from Curry College.
Dr. Moore is married to the former Meredith Ann Martin, a school psychologist with Chesapeake Public Schools. They reside in Virginia Beach with their daughter, Jacqueline Rose.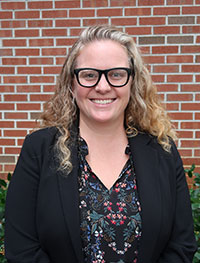 Vice President for Enrollment
757.455.3208
hmcampbell@vwu.edu
Show Bio
Heather Campbell is the Vice President for Enrollment at Virginia Wesleyan University. She holds a B.A. from Virginia Wesleyan University in Recreation and Leisure Studies and Master of Education in Higher Education Administration from Northeastern University.

Prior to Virginia Wesleyan, Campbell worked for 10 years with the United States Olympic & Paralympic Committee implementing adapted sports programming for wounded, ill, and injured service members. She returned to VWU in 2015, serving as an Enrollment Counselor and then Director of Undergraduate Enrollment.

Heather and her wife Emily reside in Norfolk with their daughter Sutton.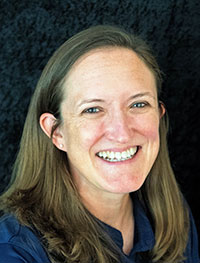 Executive Director for Intercollegiate Athletics
757.455.5723
ahoover@vwu.edu
Show Bio
Andrea Hoover-Erbig is the Executive Director for Intercollegiate Athletics at Virginia Wesleyan University. She holds a Bachelor of Science in Education from Slippery Rock University and a Master of Arts from Marietta College. Prior to her current role, Hoover-Erbig served as Head Volleyball Coach, Academic Integration Coordinator and Senior Woman Administrator at Virginia Wesleyan. While earning her master's degree, she served as Assistant Volleyball Coach at Marietta.
She is married to Chris Erbig, and they have four children: Alex (14), Peyton (11) and twins Sam and Sophie (3).  

Principals only
Topic-specific guests will be invited as appropriate by the President
Management & Coordination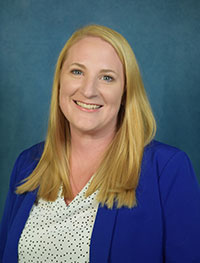 Executive Assistant to the President
757.455.3366
kcordova@vwu.edu
Show Bio
Kelly Roenker Cordova returns to the Office of the President as Executive Assistant to the President. Cordova brings to the position a deep understanding of executive leadership and administration, having directly supported the Senior Vice President and the President during the last five years. In those roles she has had instrumental involvement in communications, alumni relations, donor relations and special events.
Prior to her arrival at Virginia Wesleyan in 2015, Cordova spent six years working in the international programs department at Operation Smile, a medical non-profit that provides free cleft lip and cleft palate surgeries to children in developing countries. There, she managed a team of 15 program coordinators and directly participated in medical missions in Brazil, China, Dominican Republic, Morocco, and Paraguay.
Cordova earned her Master of Business Administration from VWU and her bachelor's degree in mass communications from Virginia Commonwealth University. A native of Virginia Beach, she resides there with her husband Andrew and daughter Alexandra.